Features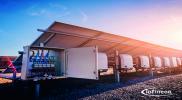 Benefits of CoolSiC MOSFETs in Bi-Directional Inverter Applications - July 2021
With the move to renewable energy, there is an increased focus not only on generation but also storage, to make the most of the intermittent supply from wind and solar. Batteries are the common...
More details...
Power Electronics Europe News
PCIM 2014 - conference program is announced
The international exhibition and conference will address the fields of power electronics and its applications in intelligent motion, renewable energy and energy management. This years' conference program presents diversity on the latest technological trends and developments in power electronic components and systems. Hightlights include three keynote speeches, two special sessions and 28 oral sessions, as well as two poster sessions. On the two days before the conference, industry experts will share their knowledge in six half-days seminars and ten full day tutorials.
View PDF