Features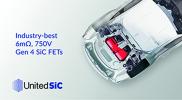 A New Approach to Circuit Breaker Design Using Silicon Carbide Switches - Nov 21
Mechanical circuit breakers can be low cost with minimal losses, but they operate slowly and wear out. Solid state versions overcome the problems and are becoming increasing viable as replacements at...
More details...
Power Electronics Europe News
The A6861 from Allegro MicroSystems Europe is a three-phase, N-channel power MOSFET driver IC....
MLS Flatpack aluminum electrolytic capacitors from Cornell Dubilier Electronics (CDE) now include two new options....
Six AEC-Q100-qualified gate drivers with propagation delays of less than 15ns have been announced by Texas Instruments....
Intersil has introduced the ISL8240M, a dual 20A/single 40A step-down power module that delivers up to 100W of output power....
Vishay Intertechnology has introduced a series of AEC-Q200-qualified, AC-line-rated ceramic disc safety capacitors. ...
Four NTC chip thermistors for high-accuracy temperature measurement have been released by Ametherm....
The iJB series of 60A non-isolated SMT DC/DC converters are compact PoL modules from TDK-Lambda....
A 40V capable switching controller, the XR75100 synchronous step-down controller, from Exar, supports PoL from 24V DC and 24V...
Excelsys Technologies adds the powerPac model to its XF series of high reliability, ruggedized COTS modular power supplies....
The Surge-Gard NTC inrush current limiting thermistors, handle high steady-state currents to 36A and input energy to 250J....