Features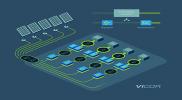 Factorized Power Accelerates Coral Reef Restoration -issue 3/2020
According to the latest figures over 70% of the world's coastlines are eroding, with 200 million people worldwide reliant on the protection that coral reefs offer. With 99% of remaining reefs...
More details...
Linear voltage regulators operate at automotive temperatures
Designed for high reliability, high temperature applications, the CMT-Antares is Cissoid's latest regulator.
More details...
Automotive Power Features
Powering the future of Autonomous driving - issue 4/2019

August, 06 2019

Analog Devices announced mid July a collaboration with First Sensor AG to develop products aimed at speeding the launch of autonomous sensing technology serving unmanned automotive, aerial and underwater vehicles in transportation, smart agriculture, industrial manufacturing and other industries...
View PDF

---
High Power module platform for automotive traction applications - issue 3/2019

June, 26 2019

A paper on a novel power semiconductor module platform for the automotive powertrain was awarded as the best PCIM 2019 paper....
View PDF

---
Design considerations for fast DC chargers targeting 350 Kilowatt - issue 2/2019

April, 23 2019

Working groups within standards organisations have, around the world, defined everything from the operational envelope and charging sequence, to the communication and connectors of High Power Chargers (HPC)...
View PDF

---
Electric Vehicle Fast Charging Challenges - issue 1/2019

March, 06 2019

With the pressure on governments to reduce carbon emissions continuing the interest in battery electric vehicles (BEV) continues to grow as part of the solution to this challenge...
View PDF

---
SiC-based Power Modules cut costs for battery powered vehicles - issue 3/2018

May, 17 2018

Demand for plug-in hybrid and all-electric vehicles is growing significantly, driven by, amongst other things, stricter emission regulations....
View PDF

---
Impact of Ultra-low On-resistance SiC MOSFETs on electric vehicle drive-train - issue 4/2017

August, 29 2017

Three market/technology forces are moving in concert to create an opportunity for SiC MOSFETs to be an enabling technology in the battery powered electric vehicle (BEV)...
View PDF

---
Multilayer Ceramic capacitors in automotive - issue 2/2017

April, 28 2017

Modern EV's, HEV's and PHEV's are sparking a revolution in the capacitor technology used in the control electronics...
View PDF

---
Dual Battery Require Bi-directional DC/DC controllers - issue 1/2017

February, 28 2017

With fuel economy regulations tightening and autonomous-driving capability with connectivity proliferating, the old-fashioned 12V automotive electrical system has reached its usable power limit...
View PDF

---
Automotive Opportunities for Power GaN - issue 4/2015

July, 15 2015

This article includes studies of the market opportunity, current performance and projected performance of very large area GaN devices that have applicability to the automotive market....
View PDF

---
MLC capacitors in automotive power electronics - issue 1/2015

February, 13 2015

The demand for better economy and lower CO2 emissions is driving automotive electronics in directions not previously experienced in this field...
View PDF

---
A Two-Phase interleaved one cycle control PFC for charger applications - issue 7/2014

November, 10 2014

The electrification of cars is bringing new challenges to the power electronics designers, AC/DC and DC/DC converters are now also needed in the automotive world and car manufacturers and OEMs are striving to address this need in an economical and efficient way...
View PDF

---
Silicon Carbide in Automotive - issue 3/2014

May, 29 2014

Some of the first markets to use SiC include the server, industrial, telecom, lighting and induction heating power supply markets. Since then, SiC has also penetrated the solar, UPS inverter, drives and avionics markets...
View PDF

---
Bond Wireless Building Blocks Provide a New Approach to Power Modules - issue 2/2013

April, 02 2013

In the latest edition the article 'COOLiR2DIEtm Bond Wireless Power Packaging for Hybrid and Electric Vehicles' took a look at how the advent of the Hybrid Electric Vehicle was bringing along new opportunities for power semiconductor packaging and in particular those without bond wires....
View PDF

---
Bond Wireless Power Packaging for Hybrid and Electric Vehicles - issue 1/2013

February, 26 2013

Traditional industrial motor drive modules are generally based on 600V or 1200V IGBTs and diodes in a wire bonded package. However, there are several limitations with wire bonding: multiple wires are needed to carry higher currents, therefore more complex and costly assembly processes are needed...
View PDF

---
Designing Automotive LCD Panel Backlight Applications - issue 6/2012

October, 10 2012

LEDs are increasingly used as backlight for LCD panels in automotive applications. But under power line surges, electronic modules for automotive applications may suffer from an input voltage of 5 to 7 times higher than normal...
View PDF

---
Automotive Environments Demand Robust Power Conversion - issue 1/2012

February, 28 2012

Automotive and heavy equipment vehicle environments are very demanding for any type of power conversion devices. wide operating voltage ranges coupled with large transisnts and wide temperature excursions combine to make reliable electronics system design difficult...
View PDF

---
Cutting vehicle emissions with advanced power electronics - issue 2/2011

May, 05 2011

As car designers seek greater fuel efficiency to meet ambitious government-imposed emissions targets, improvements in power electronics and packaging technology canhelp to increase the number of kilometres travelled in exchange for the carbon dioxide emitted...
View PDF

---
Numerical simulation to accelerate (H) EV battery development - 8/2010

December, 20 2010

The lithium-ion battery is a preferred candidate as a power source for hybrid electric vehicles (HEV) and electric vehicles (EV) due to its outstanding characteristics such as high energy density, high voltage, low self-discharge rate and good stability. However, the HEV and EV market requires much larger lithium-ion batteries than those available in the market for consumer electronics...
View PDF

---
Power Density and performance improvement of new Automotive power semiconductor packages

March, 24 2010

Steadily but surely automotive manufacturers are looking to design out the engine-driven auxiliary loads such as fuel, water, brake and power steering pumps with electric driven motors. Here MOSFETs are the devices of choice to power such applications......
View PDF

---
Driving Improvements in Motor Control Design

December, 14 2009

Electrically actuated automotive systems offer greater convenience for users, as well as enabling car makers to reduce the size, weight and cost of the equipment fitted to modern vehicles. New driver and power stage technologies for automotive BLDC motors can enhance performance, shorten time to market and reduce costs for vehicle comfort and convenience features. ISSUE 8/2009
View PDF

---
Power Semiconductor Solutions for Micro-Hybrid Systems

December, 14 2009

Current Carbon Dioxide discussion and the need for the higher efficiency lead to the highly growing market share of the hybrid automotive systems. One of the significant agenda points is so-called micro-hybrid cars. ISSUE 8/2009
View PDF

---
Automotive Applications Benefit from Multiphase Boosters

October, 19 2009

Multiphase operation results in lower component stresses, smaller input and output capacitance, smaller solution size, better thermal management, and lower output noise. With its programmability up to 12 phases using multiple daisy-chained controllers, the new LTC3862 serves the needs of step-up power supplies from 100 to 1000W in automotive fuel injection systems and high power audio amplifiers.
View PDF

---
Analysing the Hot Spots in Automotive Circuits

September, 22 2009

Automotive electronics have to perform in temperatures up to 140°C and to avoid thermal issues or, even worse, potential system failure under extreme operating conditions. Thus, it is vital to simulate the operational environment and analyse thermal performance of power devices in transient and worst case scenarios prior to implementing system design-in.
View PDF

---
Micro-Transformers Provide Signal and Power Isolation for Hybrid Electric Vehicles

May, 21 2009

Hybrid Electric Vehicles have gained increased popularity in recent years as consumers look for alternative fuel vehicles to conserve energy and reduce CO2 emissions. Electric motors are more energy efficient than conventional combustion engines running on gasoline, and they can dramatically reduce emissions.
View PDF

---
Resonant Motor Drive Topology with Standard Modules for Electric Vehicles

May, 22 2008

Automotive Power - Resonant Motor Drive Topology with Standard Modules for Electric Vehicles. Issue 5 2008
View PDF

---
Semiconductors in Hybrid Drives Applications

May, 06 2008

Automotive Power - Semiconductors in Hybrid Drives Applications2. Issue 5 2008
View PDF

---
Automotive Current Sensing

March, 21 2008

Automotive Current Sensing - Current Sensing Solutions for Hybrid Electric Vehicles. Issue 3 2008
View PDF

---
Active Charge Balancing for Li-ion Battery Stacks

March, 14 2008

Battery Management - Active Charge Balancing for Li-ion Battery Stacks. Issue 3 2008
View PDF

---
Benefits of P-Channel PowerMOSFETs in Automotive Applications

May, 15 2007

Automotive Electronics - Benefits of P-Channel PowerMOSFETs in Automotive Applications. Issue 5 2007
View PDF

---
Solder-Free Pressure Contact Modules for Automotive Applications

May, 01 2007

Automotive Electronics - Solder-Free Pressure Contact Modules for Automotive Applications. Issue 5 2007
View PDF

---
System Integrated Drive for Hybrid Traction in Automotive

April, 04 2007

Automotive Electronics - System Integrated Drive for Hybrid Traction in Automotive. Issue 4 2007
View PDF

---
Power Semiconductor Module Design for Hybrid Electric Vehicles

February, 20 2007

Hybrid Electric motors - Application Focused Power Semiconductor Module Design for Hybrid Electric Vehicles Issue 2 2007
View PDF

---
Hydrid Electric Vehicles - The Next Leap for Electronics

February, 19 2007

Hydrid Electric Vehicles - The Next Leap for Electronics Issue 2 2007
View PDF

---
Power Integration for a Smoother Hybrid Driving Experience 3/2012

Hybrid cars provide an important stepping stone between the conventional combustion engine and full electric propulsion. Engine start-stop technology is a key component of the major hybrid powertrains in the market today, and will benefit from greater power electronic integration to improve performance and reliability. David Jacquinod, Application and Marketing Manager, Automotive Business Unit, International Rectifier Corporation, USA.
View PDF

---