Features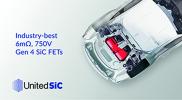 A New Approach to Circuit Breaker Design Using Silicon Carbide Switches - Nov 21
Mechanical circuit breakers can be low cost with minimal losses, but they operate slowly and wear out. Solid state versions overcome the problems and are becoming increasing viable as replacements at...
More details...
Power Electronics Europe News
At PCIM 2014 in Nuremberg PEE will host a Panel Discussion with leading industry experts on the hot topic GaN and SiC vs Si...
High voltage units have been introduced within the TDK-Lambda Z series....
DALI LED power supplies, LED drivers and controllers from Stadium Power, offer the ability to tailor lighting systems....
At PCIM Europe, PEM will launch its next-generation CWT current probes for high-speed and high power-density applications. ...
Standard three-level, press-pack IGBT phase leg stacks from Ixys have power rating up to 16MW....
Synchronous, step down, switching regulators , the XR76108, XR76112 and XR76115 have been added to Exar's PowerBlox range....
A PFC controller from Fairchild allows designers to use small passive components in high power applications....
Board developers can design PoL and achieve the highest FPGA performance at the lowest system power, says Altera....
This year's Drives & Controls Show set attendance records, with nearly 13,000 visitors over the three days....
The LpS 2014 will be held in Bregenz, Austria from 30 September to 2 October 2014....