Features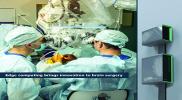 Edge Computing Leverages Modular Power in Scalable Micro Data Centres - May 2022
Edge computing is essential to realizing the full potential of artificial intelligence (AI), machine learning and internet of things (IoT). These technologies are being infused into every corner of...
More details...
Power Electronics Europe News
Nine Enpirion power SoCs, including step-down ICs, by Altera are automotive-qualified....
Analog Devices claims that its dual D/A converters are an industry first – delivering 2.8Gsample/s....
In Munich (electronica 2014 – Hall A5 – stand 320) the company will announce additions to its portfolio....
The InnoSwitch family of switcher ICs from Power Integrations uses FluxLink safety-isolated technology....
A family of standards-compliant SoC transceivers from ON Semiconductor support communications for IoT and smart meters....
The XC9306 synchronous buck-boost converter is designed by Torex to prolong battery life. ...
Zener diodes with 500 mW of power dissipation are available from Vishay Intertechnology in a compact MicroSMF eSMP package. ...
Linear Technology has released the LT8609, 2A, 42V input synchronous step-down switching regulator. ...
Open stack power supplies from Glassman High Voltage feature low ripple, typically less than 0.1% peak to peak at full load....
Five buck-boost and boost switching regulators from Intersil are designed to optimise WiFi, 3G/4G RF power amplifiers....