Features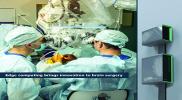 Edge Computing Leverages Modular Power in Scalable Micro Data Centres - May 2022
Edge computing is essential to realizing the full potential of artificial intelligence (AI), machine learning and internet of things (IoT). These technologies are being infused into every corner of...
More details...
Power Electronics Europe News
600V trench-gate field stop IGBTs break through power design constraints, claims STMicroelectronics....
New markets for batteries in electric vehicles and stationary energy storage systems are set to boost Lithium-Ion's fortunes....
Texas Instruments has introduced the UCC28180 PFC (power factor correction) controller which halves power dissipation....
International Rectifier has introduced a DirectFET2 power MOSFET for power steering, braking systems and pumps. ...
Toshiba Electronics Europe is sampling a multi-output system power supply IC that enhances automotive monitoring....
The bq27741 is the industry's first Li-Ion fuel gauge, says Texas Instruments. It extends run-time and protects batteries in portable medical and industrial devices. ...
The Frauhofer Institute, SUMIDA Components and Leibherr are collaborating in a GaN-resonant project....
A current-mode dual output synchronous step-down DC/DC controller from Linear Technology caters for very high currents....
The global market for merchant power supplies is forecast to grow by 2.4% this year, driven by tablets, lighting and servers....
Micross Components is to supply Fairchild Semiconductor boards, speciality components and custom packaging. ...