Features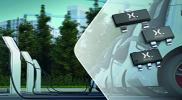 New Developments in RET Technology - Feb/March 2021
Resistor-Equipped Transistors (RETs) – also known as digital transistors or pre-bias transistors – offer many benefits, including saving space, reducing manufacturing costs and increased...
More details...
Power Electronics Europe News
Texas Instruments has introduced the UCC28180 PFC (power factor correction) controller which halves power dissipation....
International Rectifier has introduced a DirectFET2 power MOSFET for power steering, braking systems and pumps. ...
Toshiba Electronics Europe is sampling a multi-output system power supply IC that enhances automotive monitoring....
The bq27741 is the industry's first Li-Ion fuel gauge, says Texas Instruments. It extends run-time and protects batteries in portable medical and industrial devices. ...
The Frauhofer Institute, SUMIDA Components and Leibherr are collaborating in a GaN-resonant project....
A current-mode dual output synchronous step-down DC/DC controller from Linear Technology caters for very high currents....
The global market for merchant power supplies is forecast to grow by 2.4% this year, driven by tablets, lighting and servers....
Micross Components is to supply Fairchild Semiconductor boards, speciality components and custom packaging. ...
The iPower Technical Conference and networking dinner will take place 27 - 28 November 2013....
According to IHS, the solar industry has a bright outlook with growing demand in developing regions boosting capital spend....