Features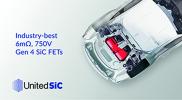 A New Approach to Circuit Breaker Design Using Silicon Carbide Switches - Nov 21
Mechanical circuit breakers can be low cost with minimal losses, but they operate slowly and wear out. Solid state versions overcome the problems and are becoming increasing viable as replacements at...
More details...
Power Electronics Europe News
Open stack power supplies from Glassman High Voltage feature low ripple, typically less than 0.1% peak to peak at full load....
Five buck-boost and boost switching regulators from Intersil are designed to optimise WiFi, 3G/4G RF power amplifiers....
A meter reference design from Maxim Integrated can extend the battery life of a utility meter to up to two decades....
Details of a consortium have been released ahead of an official launch at electronica next month....
IDT adds 1.5V clock generators and multiplexers to its PCIe family, claimed to reduce power and board space by up to 90%....
Designed to protect higher-wattage chargers for battery-powered electronic equipment, the 777 fuse is from Littelfuse....
The two companies have joined forces to co-develop GaN-based products....
The ZL8801 dual-phase, DC/DC digital PWM controller is for higher current applications (40 to 100A). ...
CUI has added right angle versions to its PBK series of compact SIP AC/DC power supplies....
Designed for eCall and OnStar emergency services, a charger from Intersil extends the vehicle's Li-ion battery life....