Features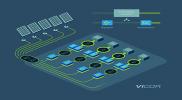 Factorized Power Accelerates Coral Reef Restoration -issue 3/2020
According to the latest figures over 70% of the world's coastlines are eroding, with 200 million people worldwide reliant on the protection that coral reefs offer. With 99% of remaining reefs...
More details...
Linear voltage regulators operate at automotive temperatures
Designed for high reliability, high temperature applications, the CMT-Antares is Cissoid's latest regulator.
More details...
Power Electronics Europe News
Suitable for industrial lighting systems, the LBC-160 LED drivers from MicroPower Direct protect to IP65/IP67....
Modules from Vishay Intertechnology have low-profile MTP PressFit packaging for welding machines, USPs and motor drives....
The LT3066 LDO voltage linear regulator has improved power supply rejection ratio (PSRR) capability, says Linear Technology....
Achievements in Low Dispersion Buffers and High Current High-Threshold Voltage p-GaN Devices Presented by Imec at IEDM 2015...
Offering 20Mbit/s data transmission, the TLP2768A from Toshiba is for high-speed communication interfaces....
To provide more precise images for healthcare devices, Texas Instruments has released 16-channel analogue front ends (AFEs)....
The i6A series of non-isolated 250W DC/DC converters from TDK-Lambda have an output adjustment range of 3.3 to 24V....
Designed to meet and exceed new safety standards for medical systems and equipment, the OFM30 has been released by Powerbox....
Dual-channel USB-port power controller add to the offering from Microchip. The UCS211 uses dynamic thermal management....
A DC/DC converter with an internal 500mA, 140V switch has an input range of 4.5 to 100V, suited to a range of input sources....