Features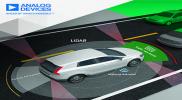 Powering the future of Autonomous driving - issue 4/2019
Analog Devices announced mid July a collaboration with First Sensor AG to develop products aimed at speeding the launch of autonomous sensing technology serving unmanned automotive, aerial and...
More details...
Linear voltage regulators operate at automotive temperatures
Designed for high reliability, high temperature applications, the CMT-Antares is Cissoid's latest regulator.
More details...
Power Electronics Europe News
Diodes extends its line of small discrete products for space-critical product design with a trio of small-signal MOSFETs....
Ambiq Micro claims to redefine low power with up to 10x reduction in energy consumption in its Apollo microcontrollers....
Merger of Power Semiconductor Leaders...
Power Electronics Awards ahead of PCIM...
Huawei makes big step...
The LTM4639 DC/DC step-down regulator from Linear Technology, converts main-power system rails to PoL voltages down to 0.6V....
Two DACs from Analog Devices, address emerging radio frequencies to meet the demand for increased traffic....
Infineon takes new approach for IGBT Modules...
The first two devices in a series of fast body diode n-channel power MOSFETs have been released by Vishay. ...
The ACPL-K30T is an automotive-grade, solid state, photovoltaic driver from Avago Technologies....