Features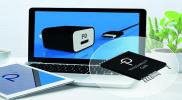 GaN-based switcher ICs empower next-generation power products - issue 1/2020
There have been a number of disruptive advances in the power electronics community over the last 20 years....
More details...
Linear voltage regulators operate at automotive temperatures
Designed for high reliability, high temperature applications, the CMT-Antares is Cissoid's latest regulator.
More details...
Power Electronics Europe News
Linear Technology announces the LTM4676A, a current shareable μModule step-down DC/DC regulator with PMBus serial interface....
Two radiation-hardened multiplexers are claimed to offer the industry's best-in-class ESD protection....
Research centre announces 11.3% aperture and 11.9% active area efficiency for thin-film perovskite photovoltaic (PV) module....
Two plug-in modules from Excelsys Technologies protect industrial and medical systems with inductive and capacitive loads....
Two dual N-channel enhancement mode MOSFETs provide a compact, bi-directional low-loss switch for battery-charging circuits. ...
Dengrove offers Recom power supplies that meet two MOPP (means of patient protection) 8mm creepage and clearance performance....
A quad-channel protector and two multiplexers from Analog Devices offer over-voltage protection....
At Intersolar Europe, imec announced a thin-film perovskite PV module of a power conversion efficiency of 8%....
Infineon has added the OptiMOS 300V, claiming to set a new standard in the power MOSFET market....
A PMIC from Dialog Semiconductor is claimed to halve comparable notebook power design and deliver 98% efficiency....