Features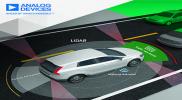 Powering the future of Autonomous driving - issue 4/2019
Analog Devices announced mid July a collaboration with First Sensor AG to develop products aimed at speeding the launch of autonomous sensing technology serving unmanned automotive, aerial and...
More details...
Linear voltage regulators operate at automotive temperatures
Designed for high reliability, high temperature applications, the CMT-Antares is Cissoid's latest regulator.
More details...
Power Electronics Europe News
Two AC/DC converters from Recom are offered by Dengrove Electronic Components for smart buildings and IoT applications....
A report finds that solar power is maturing, with robust growth for integrators and installers, but a setback for Europe....
TO-220 FullPAK transistors include what is claimed to be the first 1500V super-junction MOSFET in the arcing-resiant package....
Miniature IC transducers for AC and DC isolated current measurement up to 100kHz have been announced by LEM....
The ISL91127 and ISL91128 from Intersil boast the industry's lowest quiescent current for battery-operated devices....
Two regulated DC/DC converters from XP Power, the JWL and JSK series, have efficiency typically up to 92%....
Linear Technology announces the LTC3256, integrated, high voltage low noise dual output power supply....
Two DC/DC step-down converters by Diodes can drive loads up to 1A with no external compensation to minimize component count....
An automotive-qualified PMIC from Allegro MicroSystems Europe can implement either a buck or buck/boost regulator...
Analog Devices introduces the AD9164 DAC, and claims its high resolution radar images improve accuracy and speed of test....