Features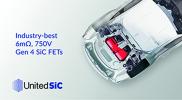 A New Approach to Circuit Breaker Design Using Silicon Carbide Switches - Nov 21
Mechanical circuit breakers can be low cost with minimal losses, but they operate slowly and wear out. Solid state versions overcome the problems and are becoming increasing viable as replacements at...
More details...
Power Electronics Europe News
Delivering up to 50mA output, the LTC3255 high voltage, step-down, switched capacitor converter from Linear Technology....

The SOL3W solar charger can be charged either by sunlight or USB charger. ...

Fairchild Semiconductor has begun its 2013 seminar programme, beginning in Europe, and moving to the Americas and Asia in early 2014. ...

The 28th EU PEV conference and exhibition opens in Paris Monday 30 September for the photovoltaic industry....

A P-channel enhancement-mode power MOSFET can be used in high high-switching applications such as load switches....

Silicon Carbide can become an alternative to Silicon according to recent research...


1
2
3
4
5
6
7
8
9
10
11
12
13
14
15
16
17
18
19
20
21
22
23
24
25
26
27
28
29
30
31
32
33
34
35
36
37
38
39
40
41
42
43
44
45
46
47
48
49
50
51
52
53
54
55
56
57
58
59
60
61
62
63
64
65
66
67
68
69
70
71
72
73
74
75
76
77
78
79
80
81
82
83
84
85
86
87
88
89
90
91
92
93
94
95
96
97
98
99
100
101
102
103
104
105
106
107
108
109