Features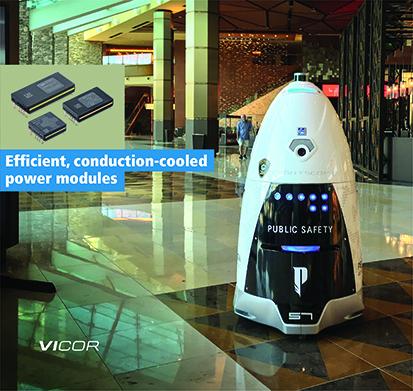 Knightscope's autonomous security robots patrol with superhuman acuity and detection prowess - May 2023
A fusion of innovative robotics, self-driving technology, vehicle electrification and artificial intelligence
More details...
AC/DC power factor correction module offers up to 1,512W
A full brick package developed by TDK-Lambda, the PF1500B-360, is for high voltage distributed power architectures
More details...
Power Electronics Europe News
A single-channel load switch from Diodes is designed to operate from 4.5 to 12V with a near-zero quiescent supply current....
Claimed to be the industry's first single-cell Li-ion 5A battery-charger IC, the bq25892 can achieve 80% capacity in 30mins....
Microchip has announced 14 digital signal controllers (DSCs) in its dsPIC33 EP GS family....
Microchip's new DSCs feature unique capabilities for digitally controlled power supplies...
Topside cooling technology has been integrated into high-power enhancement-mode devices by GaN Systems. ...
By integrating two eGaN power FETs into a single device, the EPC2104 half bridge, monolithic GaN transistor saves space....
PEM will demonstrate its range of Rogowski technology-based, wide-bandwidth current probes at PCIM next month....
The LTC3892 is a high voltage dual output synchronous step-down DC/DC controller from Linear Technology which draws just 29µA...
A new book gives more insights...
Expansion of the Cool-Power ZVS PoL regulator range by Picor introduces three high efficiency buck-boost regulators....