Features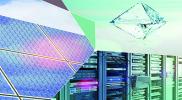 SiC MOSFETs for Bridge topologies in three-phase power conversion - issue 6/2019
Efficiency, productivity and legislation are the main drivers in power applications today. Making more out of less energy and saving costs is putting a greater focus on better conversion efficiency...
More details...
Linear voltage regulators operate at automotive temperatures
Designed for high reliability, high temperature applications, the CMT-Antares is Cissoid's latest regulator.
More details...
Power Electronics Europe News
Three mixed-voltage NPCs are integrated into a single flow 1 housing for 1200V solar three-phase inverter applications....
CT-Concept ships its first products with SCALE-2 gate driver chipset enabling soft shutdown in the event of a short circuit....
Advanced Power Electronics has introduced a small load switch with controlled turn-on and very low on-resistance....
Advanced photovoltaic (PV) technologies will increasingly find their way into mainstream solar manufacturing soon....
Three models have been added to LEMís HO series of PCB through-hole mounting current transducers....
Over 300 companies were asked about their preferences and opinions on PV inverters in a recent survey by IHS....
ETSI- and ITU-compliant 1.75kW modules have been added to Vicorís isolated BCM (Bus converter Module) range....
Wide bandgap (WBG) technologies will reshape part of the industry, especially SiC for high-voltage devices....
At PCIM 2014 in Nuremberg PEE will host a Panel Discussion with leading industry experts on the hot topic GaN and SiC vs Si...
High voltage units have been introduced within the TDK-Lambda Z series....