Features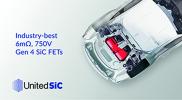 A New Approach to Circuit Breaker Design Using Silicon Carbide Switches - Nov 21
Mechanical circuit breakers can be low cost with minimal losses, but they operate slowly and wear out. Solid state versions overcome the problems and are becoming increasing viable as replacements at...
More details...
Power Electronics Europe News
The mergers & acquistions continue on large scale...
The first industrial class DC/DC converter modules in the ICQ series has been announced by Murata Power Solutions....
16bit, low power microcontrollers have superior processing capability and low power consumption, claims Lapis Semiconductor....
The A5989 40V motor driver IC combines a bipolar stepper and high current DC motor driver IC....
Two AC/DC converters from Recom are offered by Dengrove Electronic Components for smart buildings and IoT applications....
A report finds that solar power is maturing, with robust growth for integrators and installers, but a setback for Europe....
TO-220 FullPAK transistors include what is claimed to be the first 1500V super-junction MOSFET in the arcing-resiant package....
Miniature IC transducers for AC and DC isolated current measurement up to 100kHz have been announced by LEM....
The ISL91127 and ISL91128 from Intersil boast the industry's lowest quiescent current for battery-operated devices....
Two regulated DC/DC converters from XP Power, the JWL and JSK series, have efficiency typically up to 92%....