Features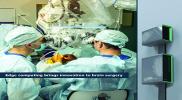 Edge Computing Leverages Modular Power in Scalable Micro Data Centres - May 2022
Edge computing is essential to realizing the full potential of artificial intelligence (AI), machine learning and internet of things (IoT). These technologies are being infused into every corner of...
More details...
Power Electronics Europe News
Claiming the industry's lowest quiescent current, the TPS7A02 can extend battery life in industrial and personal devices...
Automotive supplier Delphi and Cree/Wolfspedd announced a partnership to utilize SiC technology for electric vehicles...
The distributor partners with Student Circuit for a series of events and a competition to win drones and a mobile laboratory...
Partnering with Efficient Power Conversion, Solace Power incorporates low cost eGaN FETs in its 250W wireless power platform...
The MGF80 is in an industry standard, six sided, shielded metallic case and designed for use in demanding applications....
A ruggedised option has been added to the GXE600 series of 600W rated programmable AC/DC power supplies by TDK-Lambda. ...
Vicor Appoints European Director of Automotive Business Development...
University of Sheffield awarded £11 million to develop the next generation of lithium-ion batteries...
In response to demands for silicon carbide in electric vehicle (EV) systems, Infineon Technologies offers two 1200V modules...
Automotive-grade WFP Power Metal Plate shunt resistors also have a 20W power rating in a 3939-sized package to save space...