Features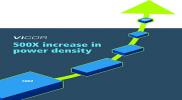 Innovating Power Module Packaging - April/May 21
A system's power delivery network or PDN is made up of passive and active components such as cables, connectors, AC-DC and DC-DC converters and regulators. As power levels increase to enable new
More details...
Power Electronics Europe News
Additions to its railway portfolio means that Recom offers the broadest range of EN50155-certified products, says the company...
Multi-anode, polymer, surface-mount chip capacitors make up the T59 vPolyTan series from Vishay Intertechnology. ...
The LED professional Symposium Expo (LpS) 2017 will emphasize "Smart Technologies for Lighting Innovations"....
AC/DC power supplies from Recom are for medical applications. The RACM range is available from Dengrove Electronic Components...
The AOK40B65H2AL, improves high-speed switching applications, claims Alpha and Omega Semiconductor....
The compact TAS6424-Q1 four-channel amplifier from Texas Instruments, enables high-fidelity audio with low distortion....
Offered in a QFN32 package, the TB62269FTAG is a compact, high-resolution 40V, 1.8A motor driver, from Toshiba Electronics...
The 19th European Conference on Power Electronics and Applications will be held in WARSAW from 11 - 14 Sept. 2017...
Award includes prize money of EUR 10.000,00 ...
Multi-discipline team collaboration solution to manage increasing system complexity...