Features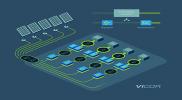 Factorized Power Accelerates Coral Reef Restoration -issue 3/2020
According to the latest figures over 70% of the world's coastlines are eroding, with 200 million people worldwide reliant on the protection that coral reefs offer. With 99% of remaining reefs...
More details...
Linear voltage regulators operate at automotive temperatures
Designed for high reliability, high temperature applications, the CMT-Antares is Cissoid's latest regulator.
More details...
Power Electronics Europe News
Powering 48-V automotive applications...
Power Integrations announces its InnoSwitch-CP family of off-line CV/CC flyback switching ICs. ...
The conference programme has been published for this year's show, covering varied topics and with market-focused keynotes....
Miniature, PoL switching regulators from MicroPower Direct provide up to 0.5A of output current. ...
Abstracts on lighting trends and innovations are invited from experts from science and industry. Deadline is Fri 19 February....
The LT3089 has an extended safe operating area (SOA) compared to existing regulators to alleviate output limits....
Configuration via a digital interface allows the PMBus SupIRBuck voltage regulator to reduce design and test time....
A 1.3nJ/b digital polar transmitter, optimised for IoT applications and the IEEE 802.11ah Wi-Fi protocol is unveiled....
Two high power DC/DC converters from Ideal Power are for domestic, industrial, architectural and automotive LED lighting....
The EPC9059 development board from Efficient Power Conversion (EPC) demonstrates how eGaN technology in PoL converters....