Features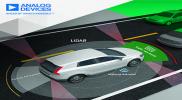 Powering the future of Autonomous driving - issue 4/2019
Analog Devices announced mid July a collaboration with First Sensor AG to develop products aimed at speeding the launch of autonomous sensing technology serving unmanned automotive, aerial and...
More details...
Linear voltage regulators operate at automotive temperatures
Designed for high reliability, high temperature applications, the CMT-Antares is Cissoid's latest regulator.
More details...
Power Electronics Europe News
Rutronik offers the AP3595 dual phase, synchronous rectified buck controller from Diodes. ...
Infineon Technologies claims it has released the smallest CoolMOS MOSFET, the ThinPAK 5x6....
Three mixed-voltage NPCs are integrated into a single flow 1 housing for 1200V solar three-phase inverter applications....
CT-Concept ships its first products with SCALE-2 gate driver chipset enabling soft shutdown in the event of a short circuit....
Advanced Power Electronics has introduced a small load switch with controlled turn-on and very low on-resistance....
Advanced photovoltaic (PV) technologies will increasingly find their way into mainstream solar manufacturing soon....
Three models have been added to LEMís HO series of PCB through-hole mounting current transducers....
Over 300 companies were asked about their preferences and opinions on PV inverters in a recent survey by IHS....
ETSI- and ITU-compliant 1.75kW modules have been added to Vicorís isolated BCM (Bus converter Module) range....
Wide bandgap (WBG) technologies will reshape part of the industry, especially SiC for high-voltage devices....