Features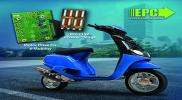 Integrated GaN Power Stage for eMobility - issue 2/2020
Brushless DC (BLDC) motors are a popular choice and are finding increasing application in robotics, drones, electric bicycles, and electric scooters. All these applications are particularly sensitive...
More details...
Linear voltage regulators operate at automotive temperatures
Designed for high reliability, high temperature applications, the CMT-Antares is Cissoid's latest regulator.
More details...
Power Electronics Europe News
Claimed to be the industry's first single-cell Li-ion 5A battery-charger IC, the bq25892 can achieve 80% capacity in 30mins....
Microchip has announced 14 digital signal controllers (DSCs) in its dsPIC33 EP GS family....
Microchip's new DSCs feature unique capabilities for digitally controlled power supplies...
Topside cooling technology has been integrated into high-power enhancement-mode devices by GaN Systems. ...
By integrating two eGaN power FETs into a single device, the EPC2104 half bridge, monolithic GaN transistor saves space....
PEM will demonstrate its range of Rogowski technology-based, wide-bandwidth current probes at PCIM next month....
The LTC3892 is a high voltage dual output synchronous step-down DC/DC controller from Linear Technology which draws just 29µA...
A new book gives more insights...
Expansion of the Cool-Power ZVS PoL regulator range by Picor introduces three high efficiency buck-boost regulators....
Claimed to be fastest silicon diodes in the world, Qspeed LQA150 devices feature softness for low EMI....