Features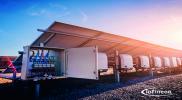 Benefits of CoolSiC MOSFETs in Bi-Directional Inverter Applications - July 2021
With the move to renewable energy, there is an increased focus not only on generation but also storage, to make the most of the intermittent supply from wind and solar. Batteries are the common...
More details...
Power Electronics Europe News
The LSIC1MO120E0080 series combines low switching losses and robustness, even at high temperatures, says Littelfuse....
Analog Devices offers the LTM8065 step-down regulator for industrial robotics, factory automation and avionics systems....
Package options in the SLLIMM nano-intelligent power modules are designed to simplify motor drives, says STMicroelectronics....
Compact, single output AC/DC converters from Powersolve are designed to provide up to 300W across a wide temperature range....
Recom introduces a 5W AC/DC converter that is compact for Internet of Things (IoT) application where modules operate 24/7. ...
Flyback contoller IC achieves over 94 % efficiency...
Two mid-voltage, high current photorelays announced by Toshiba Electronics Europe will replace mechanical relays....
PolarFire FPGAs from Microsemi are now interoperable with Analog Devicesí AD9371 RF transceiver to increase use options....
Analog Devices introduces the LTC7004, high speed, high side N-channel MOSFET driver which operates up to a 60V supply....
Microchip has announced the SST26WF064C, a 1.8V Serial Quad I/O SuperFlash memory which reduces overall power consumption.†...