Features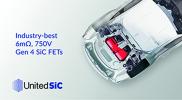 A New Approach to Circuit Breaker Design Using Silicon Carbide Switches - Nov 21
Mechanical circuit breakers can be low cost with minimal losses, but they operate slowly and wear out. Solid state versions overcome the problems and are becoming increasing viable as replacements at...
More details...
Power Electronics Europe News
Recom has added two- and three-phase AC/DC DIN-rail power supplies to its power supplies ranging from 0.25 to 1000W....
Vicor claims that its latest Power-on-Package (PoP) ChiP-set can be used effectively, close to XPUs...
The 2018 conference programme includes electric vehicle (EV) technologies as well as power device design and packaging....
DC/DC converters from CUI's Power Group are designed for solar power equipment, wind turbines and electric charging stations....
Littelfuse adds two 1200V silicon carbide (SiC) n-channel MOSFETs to its portfolio of power semiconductor devices....
The InnoSwitch3-Pro enables digital micro-stepping of voltage and current for battery charge control, says Power Integrations...
The EPC9130 GaN-based 48 to 12V regulated power supply development board reduces size, boosts efficiency, says EPC....
Texas Instruments introduces an active clamp flyback chipset and three-level buck battery charger at APEC 2018....
650V SiC Schottky diodes,by ON Semiconductor, are claimed to offer higher efficiency, power density and lower system costs....
The ZXGD3113 synchronous rectifier controller, when coupled with a MOSFET, can replace lossy Schottky rectifiers, says Diodes...