Features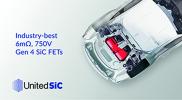 A New Approach to Circuit Breaker Design Using Silicon Carbide Switches - Nov 21
Mechanical circuit breakers can be low cost with minimal losses, but they operate slowly and wear out. Solid state versions overcome the problems and are becoming increasing viable as replacements at...
More details...
Power Electronics Europe News
Technology benefits include circuit consistency of /- 5um thanks to the highly mechanized production process...
The MCF8316A and MCT8316A BLDC motor drivers provide real-time control capabilities to optimise acoustic performance...
Highly cost-effective, scalable, and convenient methodology for heterogeneous integration of different semiconductor process technologies...
STMicroelectronics offers the STEVAL-NRG011TV board for 200W digital power design for LED and OLED TVs...
Infineon Technologies has introduced the 22kW REF-22K-GPD-INV-EASY3B based on its CoolSiC MOSFET....
Murata claims that the Type 2AB is the smallest ultra-wideband module and is optimised for use in low power IoT...
PCB-based relay can be used as the main switching element in three-phase systems, says Panasonic Industry...
Combination Extends Renesasí Leadership in Embedded Solutions for the Fast-Growing IoT, Industrial, and Automotive Markets...
The distributor has added the AD9081 and AD9082 multi-channel, mixed signal RF converters to its linecard...
The LHP150F and LHP300F have a peak power capability of 200% for industrial applications, says Cosel...