Features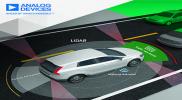 Powering the future of Autonomous driving - issue 4/2019
Analog Devices announced mid July a collaboration with First Sensor AG to develop products aimed at speeding the launch of autonomous sensing technology serving unmanned automotive, aerial and...
More details...
Linear voltage regulators operate at automotive temperatures
Designed for high reliability, high temperature applications, the CMT-Antares is Cissoid's latest regulator.
More details...
Power Electronics Europe News
Linear Technology announces the LTC2348-18, 18bit, eight-channel simultaneous sampling SAR ADC....
Claimed to be the industry's smallest 20A power module, XR79120, has been released by Exar....
Research projects 3Ccar, OSEM-EV and Silver Stream will focus on bringing c environmentally-friendly vehicles to market....
Analysts from IHS notes the show's growth in size and the reaction of silicon vendors to the emergence of SiC and GaN....
Two DIN-rail power supplies, available from Dengrove Electronic Components, offer a seven-year warranty....
Intersil's new ISL 8117 supports direct conversion 48/1 V ...
The BPA 2015 goes to Infineon and will be handed over on May 19 on occasion of the official opening ceremony...
Three buck-boost regulators have been added to the Cool-Power ZVS PoL regulator based on ZVS technology....
Ericsson has introduced a DC/DC converter module based on its Hybrid Regulated Ratio (HRR) technology. ...
An IXOLAR solar panel, the SLPN005H10L, can power portable equipment, via an integrated USB port. ...