Features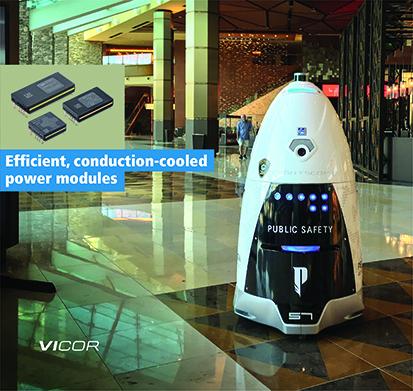 Knightscope's autonomous security robots patrol with superhuman acuity and detection prowess - May 2023
A fusion of innovative robotics, self-driving technology, vehicle electrification and artificial intelligence
More details...
AC/DC power factor correction module offers up to 1,512W
A full brick package developed by TDK-Lambda, the PF1500B-360, is for high voltage distributed power architectures
More details...
Power Electronics Europe News
The MAX20361 is a solar harvester with maximum power point tracking (MPPT) which halves space required for end products...
The P9418 integrated wireless power receiver IC delivers faster wireless charging and highest power density, claims Renesas...
The company says the battery monitor-balancer improves performance in wired and wireless battery management systems...
A power control reference design is claimed to simplify AC/DC design and the interface with smart home automation devices....
The ACS37800 Hall-effect IC integrates power, voltage and current monitoring and reinforced isolation....
A family of two-wire unipolar and latch switch ICs from Diodes have self-diagnostics for automotive proximity and sensing...
The RPMH series of non-isolated switching regulators has an extended rating of 1.5A with no increase in size...
EPC2055 eGaN FETs are smaller, more efficient and more reliable than alternatives, says from Efficient Power Conversion (EPC)...
The AOTL66518 and AOB66518L MOSFETs, released by Alpha and Omega Semiconductor have low on-resistance....
Microchip is offering engineering silicon of the radiation-toleration (RT) PolarFire FPGA to create hardware prototypes. ...