Features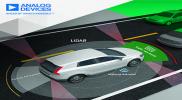 Powering the future of Autonomous driving - issue 4/2019
Analog Devices announced mid July a collaboration with First Sensor AG to develop products aimed at speeding the launch of autonomous sensing technology serving unmanned automotive, aerial and...
More details...
Linear voltage regulators operate at automotive temperatures
Designed for high reliability, high temperature applications, the CMT-Antares is Cissoid's latest regulator.
More details...
Power Electronics Europe News
To increase convenience and reduce waste, the IEC has announced a smart charging solution that allows chargers to be re-used....
Zener diodes, optimized by Rohm, offer protection and constant current in a variety of electrical circuits....
Enhanced radiation hardened MOSFETs for mission-critical applications have been released by IR HiRel....
Switching regulators from Recom, the R420-1.8/PL series, are specifically for microprocessors from 4.0 to 20mA lo loop....
The CCG15 series from TDK-Lambda are in a metal case to provide six-sided shielding to reduce EMI radiation...
Able to deliver over 100mA, via two adjustable power rails, the LTM2887, is a six-channel isolator from Linear Technology...
The isolated, regulated DC/DC converters operate from an unregulated, wide range input to generate an isolated DC output...
Additions to its railway portfolio means that Recom offers the broadest range of EN50155-certified products, says the company...
Multi-anode, polymer, surface-mount chip capacitors make up the T59 vPolyTan series from Vishay Intertechnology. ...
The LED professional Symposium Expo (LpS) 2017 will emphasize "Smart Technologies for Lighting Innovations"....