Features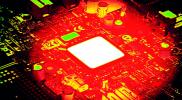 Integrated Battery-Charging Solution with Power Path Management - issue 5/2019
A new single coil power management IC with flexible configuration, rich functions and high efficiency integrates as many analog circuits as possible...
More details...
Linear voltage regulators operate at automotive temperatures
Designed for high reliability, high temperature applications, the CMT-Antares is Cissoid's latest regulator.
More details...
Power Electronics Europe News
Single, dual and quad operational amplifiers from Linear Technology extend its line of low noise, precision op amps...
Navitas Semiconductor announces what it believes is the industry's first integrated half-bridge GaN power IC....
The 7th annual LED professional Symposium Expo take places 26 to 28 September, co-located with Trends in Lighting this year...
Switching regulators from Exar are designed for infotainment head units and ADAS (advanced driver assistance systems)....
Integrating digital and analogue circuitry increases performance and reduces system cost, says Navitas Semiconductor....
The conference programme for this year's PCIM (16 to 18 May) in Nuremberg has been confirmed....
The AZ 7621 P series of compact latching relays switches 16A at 250V AC for energy smart applications....
Planned Acquisition denied by US CFIUS...
Technological basis set for high performance electronic circuit breakers ...
The LTC4279 serves LTE picocell basestations, LED signage, security monitoring, home automation and machine vision systems....