Features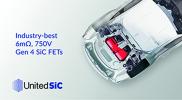 A New Approach to Circuit Breaker Design Using Silicon Carbide Switches - Nov 21
Mechanical circuit breakers can be low cost with minimal losses, but they operate slowly and wear out. Solid state versions overcome the problems and are becoming increasing viable as replacements at...
More details...
Power Electronics Europe News
Designed to drive small brush-type, stepper, or brushless motors, the HVC 4420F has been added to the Micronas range by TDK....
Power supplies from Vicor are designed to VITA 62 for 3U Open VPX systems....
Vishay Intertechnology has introduced high saturation IHSR inductors are offered in a 1616 case with a 1.2mm profile....
Two reference designs from Recom are designed for railway's harsh environments...
Scale-iDriver SiC-MOSFET gate drivers are claimed to have the highest output gate current and fast shut down ...
ICs from Infineon, the TLE985x series will support automotive customers in replacing relays in motor control applications...
New LED driver family with eight new AEC-Q101 qualified devices from Nexperia...
Power Integrations announced at embedded world in Nuremberg the SiC MOSFET SIC1182K SCALE-iDriver ...
New Book on Semiconductor Power Devices: Physics, Characteristics, and Reliability...
The second generation 650V diodes from Littelfuse operate at high temperatures and have negligible reverse recovery current...