Features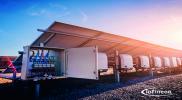 Benefits of CoolSiC MOSFETs in Bi-Directional Inverter Applications - July 2021
With the move to renewable energy, there is an increased focus not only on generation but also storage, to make the most of the intermittent supply from wind and solar. Batteries are the common...
More details...
Power Electronics Europe News
Efficiency increases in the MAXM22511 isolated RS-485 module transceiver is offered by Maxim Integrated in a compact package....
Texas Instruments claims the ISO1042 and ISO1042-Q1 have high bus fault protection and the lowest electromagnetic emissions....
Medical-grade DC/DC converters from Recom, ranging from 15 to 30W, are compact for integration in medical designs....
An AC/DC converter enables unprecedented power density and thermal management flexibility, claims Vicor. ...
ADCs from Analog Devices are claimed to simplify development of PLC and distributed control system modules ...
Microchip claims a linear LDO regulator can extend battery life by up to four times, compared to traditional low Iq LDOs...
The WMRAG series will shrink the size and power consumption of IoT devices and wearable devices, claims Murata....
Allegro Microsystems adds the ALT80802 to its family of 62xx/808xx LED drivers for automotive lighting applications. ...
Designed for industrial battery-powered applications, the ISL81601 and ISL81401 have been released by Renesas Electronics...
Power modules in the RPM series increase the power density of DOSA-packaged DC/DC converters, claims Recom....