Features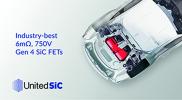 A New Approach to Circuit Breaker Design Using Silicon Carbide Switches - Nov 21
Mechanical circuit breakers can be low cost with minimal losses, but they operate slowly and wear out. Solid state versions overcome the problems and are becoming increasing viable as replacements at...
More details...
Power Electronics Europe News
InnoSwitch3-AQ ICs are up to 90% efficient with low 15 mW no-load power consumption and increased voltage margin for 400 V and 800 V batteries...
SCALE-2 driver support 130 mm x 140 mm IGBT high-power modules from all major manufacturers...
Believed to be the first to protect PV roof shingles from reverse over-current, the 400PV Fuse series protects from heat...
The low-Ohmic 10W GMR320 and the 15W PSR shunt resistors are designed for high power applications...
At this year's event, EPC launches the EPC9146 GaN-powered motor drive demo board for three-phase motor drives...
Inductors released by Murata have broadband impedance for in-vehicle power over coax (PoC) systems in vehicles...
Infineon has introduced aluminium nitride (AIN) ceramic to its EasyDual CoolSiC MOSFET power modules...
Flex Power Modules introduces the BMR474 digital non-isolated PoL regulator in a compact single inline package ...
Belgium-based research institute Imec have demonstrated epitaxial growth of GaN buffer layers qualified for 1200 V applications on 200 mm QST® substrates, with a hard breakdown exceeding 1800 V...
Cissoid has introduced two liquid-cooled SiC intelligent power modules (IPMs) and one for natural cooling in aerospace design...