Features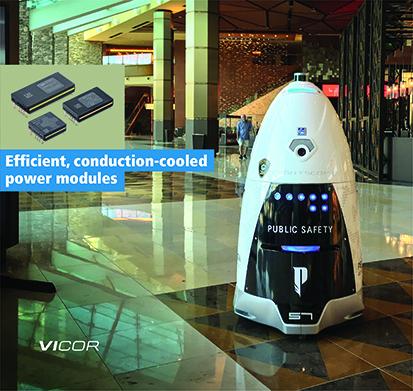 Knightscope's autonomous security robots patrol with superhuman acuity and detection prowess - May 2023
A fusion of innovative robotics, self-driving technology, vehicle electrification and artificial intelligence
More details...
AC/DC power factor correction module offers up to 1,512W
A full brick package developed by TDK-Lambda, the PF1500B-360, is for high voltage distributed power architectures
More details...
Power Electronics Europe News
Cree Power & RF IPO under Wolfspeed...
The HTB28 is claimed to be the industry's first hermetic hybrid DC/DC converter rated at 185ºC in a one inch wide package....
The organiser of the LED professional Symposium Expo 2015 (LpS 2015), announces 60 technical presentations; seven workshops...
Offered in a 3 x 3mm QFN package, the MIC24046-H is a pin-configurable 5A synchronous buck converter from Micrel....
Linear Technology announces the LTM4676A, a current shareable μModule step-down DC/DC regulator with PMBus serial interface....
Two radiation-hardened multiplexers are claimed to offer the industry's best-in-class ESD protection....
Research centre announces 11.3% aperture and 11.9% active area efficiency for thin-film perovskite photovoltaic (PV) module....
Two plug-in modules from Excelsys Technologies protect industrial and medical systems with inductive and capacitive loads....
Two dual N-channel enhancement mode MOSFETs provide a compact, bi-directional low-loss switch for battery-charging circuits. ...
Dengrove offers Recom power supplies that meet two MOPP (means of patient protection) 8mm creepage and clearance performance....