Features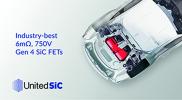 A New Approach to Circuit Breaker Design Using Silicon Carbide Switches - Nov 21
Mechanical circuit breakers can be low cost with minimal losses, but they operate slowly and wear out. Solid state versions overcome the problems and are becoming increasing viable as replacements at...
More details...
Power Electronics Europe News
PCB-based relay can be used as the main switching element in three-phase systems, says Panasonic Industry...
Combination Extends Renesas' Leadership in Embedded Solutions for the Fast-Growing IoT, Industrial, and Automotive Markets...
The distributor has added the AD9081 and AD9082 multi-channel, mixed signal RF converters to its linecard...
The LHP150F and LHP300F have a peak power capability of 200% for industrial applications, says Cosel...
Combo ReDrivers from Diodes support Microsoft's power saving requirements for personal and industrial PCs...
The Vishay Dale IHLP-2020CZ-8A high temperature IHLP low profile, high current inductor is supplied in a 2020 case size...
The AOZ97774QE supports 5G wireless, networking, optical communications and general purpose DC/DC applications....
Easing the transition to high-efficiency wide-bandgap technology, STMicroelectronics has released the MasterGaN3 and MasterGaN5 integrated power packages for applications up to 45W and 150W, respectively...
ST and Cree/Wolfspeed announced on August 17 the expansion of an existing multi-year, long-term silicon carbide wafer supply agreement...
Designed for light vehicle generators the diode is produced by Bosch and based on Infineon's integrated chip technology...