Features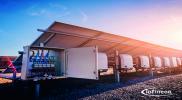 Benefits of CoolSiC MOSFETs in Bi-Directional Inverter Applications - July 2021
With the move to renewable energy, there is an increased focus not only on generation but also storage, to make the most of the intermittent supply from wind and solar. Batteries are the common...
More details...
Power Electronics Europe News
RKZ DC/DC converters from Recom are available through Dengrove Electronic Components, which introduces a 24V input option....
A power conversion module combining the functions of a rectifier, an inverter and a "static transfer switch" in one box ...
Constant power output profile through adaptive-voltage protocol...
Pulse Oximeter and Haert Rate Sensor for vital-sign monitoring...
Extended range switching regulators from Recom are available from Dengrove Electronic Components....
The research project E2SG (Energy to Smart Grid) lays the foundations for a more secure, stable smart grid....
The S6Bl111A LED driver makes LED front lighting systems smaller and more cost effective, says Cypress Semiconductor....
Vicor has released a family of high density PFM AC/DC front-end modules in the rugged VIA package....
Single-chip protection for one-cell Li-Ion (Li ) and lithium-polymer batteries, the AP9214L has been introduced by Diodes....
Combining a low-power optical sensor with an EFM32 Gecko microcontroller delivers a cost-effective module....