Features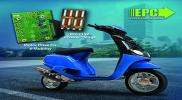 Integrated GaN Power Stage for eMobility - issue 2/2020
Brushless DC (BLDC) motors are a popular choice and are finding increasing application in robotics, drones, electric bicycles, and electric scooters. All these applications are particularly sensitive...
More details...
Linear voltage regulators operate at automotive temperatures
Designed for high reliability, high temperature applications, the CMT-Antares is Cissoid's latest regulator.
More details...
Power Electronics Europe News
Four NTC chip thermistors for high-accuracy temperature measurement have been released by Ametherm....
The iJB series of 60A non-isolated SMT DC/DC converters are compact PoL modules from TDK-Lambda....
A 40V capable switching controller, the XR75100 synchronous step-down controller, from Exar, supports PoL from 24V DC and 24V...
Excelsys Technologies adds the powerPac model to its XF series of high reliability, ruggedized COTS modular power supplies....
The Surge-Gard NTC inrush current limiting thermistors, handle high steady-state currents to 36A and input energy to 250J....
Claimed to have the industry's fastest boot time, the TW8836 is an LCD controller from Intersil....
Two products from Murata are designed to improve power conversion efficiency in large data centre environments. ...
Offered in open-frame and fully enclosed versions, the H0331 DC/DC converters from Powerstax also have input options....
Compact Integrated Power Modules (IPMs) from International Rectifier are for low power motor drive application...
A new, higher current device has been added to the 6.5kV press-pack IGBT family, by IXYS. ...