Features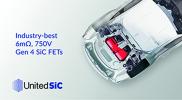 A New Approach to Circuit Breaker Design Using Silicon Carbide Switches - Nov 21
Mechanical circuit breakers can be low cost with minimal losses, but they operate slowly and wear out. Solid state versions overcome the problems and are becoming increasing viable as replacements at...
More details...
Power Electronics Europe News
Three switch ICs from Toshiba Electronics Europe are based on a CMOS process and in an industry-standard SOT-25....
The 6th International LED professional Symposium Expo (LpS 2016) has increased the conference program....
The CDM10V LED interface IC allows designers to replace many discrete components, says Infineon Technology....
Two industrial power supplies from Recom are now available from Dengrove Electronic Components....
Linear Technology announces LT8608, a 1.5A, 42V input synchronous step-down switching regulator, delivering 93% efficiency....
Surface-mounted DC/DC converters from Murata Power Solutions are footprint-compatible with similar 1.0 and 2.0W devices....
Integrating a high channel count the XR18910 analogue front end sensor interface is offered in a small, 3.5 x 3.5mm footprint...
Allegro MicroSystems Europe has introduced two DC/DC step-down switching regulators for infotainment systems....
Suitable for battery-powered applications, Maxim Integratedís MAX77596 allows always-on operation....
Monolithic, synchronous buck regulators provide continuous output current for in Advanced Driver Assistance Systems (ADAS)....