Features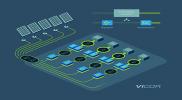 Factorized Power Accelerates Coral Reef Restoration -issue 3/2020
According to the latest figures over 70% of the world's coastlines are eroding, with 200 million people worldwide reliant on the protection that coral reefs offer. With 99% of remaining reefs...
More details...
Linear voltage regulators operate at automotive temperatures
Designed for high reliability, high temperature applications, the CMT-Antares is Cissoid's latest regulator.
More details...
Power Electronics Europe News
The DRB480-48-1 48V 480W output model has been added to the DRB series of 15 to 480W DIN rail mount power supplies. ...
The ILD8150/E LED driver IC is based on hybrid dimming mode technology to achieve 0.5% of the target current...
Intended for smart building applications, the XT-GR is the latest dimmable LED drivers from Xelite....
The PQAE40U, PQAE60U and PQAE100U, 12:1 input quarter brick DC/DC converters are designed for demanding applications....
A gate driver system for IGBT, hybrid and SiC MOSFET power modules is designed for easy paralleling, says Power Integrations...
Alpha and Omega Semiconductor has released the 700V and 600V αMOS5 super junction MOSFETs....
Board space can be optimised using the Recom REC15E-Z isolated DC/DC converters, says Dengrove Electronics Products....
Claimed to be the smallest devices in their fields, they enable smaller form factors in personal electronics, enterprise, industrial and communications...
Maxim Integrates says its MAX40056 offer the industry's highest accuracy and fastest settling time....
An efficient, single-channel H-bridge driver incorporates a low on-resistance (0.6W) MOSFET delivering 50V/3.5A (max.)...