Features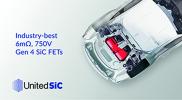 A New Approach to Circuit Breaker Design Using Silicon Carbide Switches - Nov 21
Mechanical circuit breakers can be low cost with minimal losses, but they operate slowly and wear out. Solid state versions overcome the problems and are becoming increasing viable as replacements at...
More details...
Power Electronics Europe News
New Management staff at Powerex USA...
The CPC1561B is a 1A fault-protected solid state relay with integrated current limiting and thermal shutdown...
MLCCs from Vishay Intertechnology have lead (Pb) bearing termination finishes for a cost-efficiency in high-rel applications...
Two DC/DC converters from Murata Power Solutions are suitable for embedded applications in rail and industrial applications...
The LT8491 from Analog Devices operates from input voltages above, below or equal to the regulated battery float voltage....
The 2ED24427N01F EiceDRIVER has low thermal resistance yet operates at high switching frequencies and output currents...
With a footprint of 101.6 x 50.8mm and a height of 40.89mm, the VCCS300S is a 300W single output power supply from Vox Power...
The design of WolfPACK power modules maximise power density and the standard form factor simplifies design, says Cree...
The MAX20361 is a solar harvester with maximum power point tracking (MPPT) which halves space required for end products...
The P9418 integrated wireless power receiver IC delivers faster wireless charging and highest power density, claims Renesas...