Features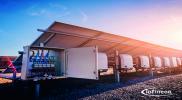 Benefits of CoolSiC MOSFETs in Bi-Directional Inverter Applications - July 2021
With the move to renewable energy, there is an increased focus not only on generation but also storage, to make the most of the intermittent supply from wind and solar. Batteries are the common...
More details...
Power Electronics Europe News
A smaller Powerharvester wireless power receiver and RF-to-DC converter chip can be used in smart cards and hearing aids....
Vishay Intertechnology has added a silicon PIN photodiode with enhanced sensitivity for visible light and a low profile....
Vishay Intertechnology introduces electrical double-layer energy storage capacitors for energy harvesting and power back-up.h...
SCR switching thyristors in the SJ series from Littelfuse combine blocking voltages up to 600V with currents up to 40A....
The TPSM82480 is Texas Instrumentsí latest 5.5V step-down power module that delivers true, continuous 6A output current. ...
Following the introduction of the R1SX 1W DC/DC converters, Recom adds the R1DX series for dual output voltage applications....
Power Integrations offers its Scale gate drivers with conformal coating to enhance robustness in harsh environments....
Two MOSFETs from Toshiba Electronics Europe are housed in a small low-resistance SOP Advance (WF) package....
Alpha and Omega Semiconductor introduces I2C controllable EZBuck regulators to power next-gen chipsets and FPGAs....
Analog Devices announced the LTM4653 step-down regulator with low EMI, designed for use in varied environments. ...