Features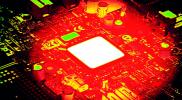 Integrated Battery-Charging Solution with Power Path Management - issue 5/2019
A new single coil power management IC with flexible configuration, rich functions and high efficiency integrates as many analog circuits as possible...
More details...
Linear voltage regulators operate at automotive temperatures
Designed for high reliability, high temperature applications, the CMT-Antares is Cissoid's latest regulator.
More details...
Power Electronics Europe News
Multi-anode, polymer, surface-mount chip capacitors make up the T59 vPolyTan series from Vishay Intertechnology. ...
The LED professional Symposium Expo (LpS) 2017 will emphasize "Smart Technologies for Lighting Innovations"....
AC/DC power supplies from Recom are for medical applications. The RACM range is available from Dengrove Electronic Components...
The AOK40B65H2AL, improves high-speed switching applications, claims Alpha and Omega Semiconductor....
The compact TAS6424-Q1 four-channel amplifier from Texas Instruments, enables high-fidelity audio with low distortion....
Offered in a QFN32 package, the TB62269FTAG is a compact, high-resolution 40V, 1.8A motor driver, from Toshiba Electronics...
The 19th European Conference on Power Electronics and Applications will be held in WARSAW from 11 - 14 Sept. 2017...
Award includes prize money of EUR 10.000,00 ...
Multi-discipline team collaboration solution to manage increasing system complexity...
Siemens acquires electronics simulation software vendor...