Features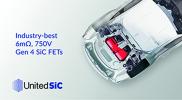 A New Approach to Circuit Breaker Design Using Silicon Carbide Switches - Nov 21
Mechanical circuit breakers can be low cost with minimal losses, but they operate slowly and wear out. Solid state versions overcome the problems and are becoming increasing viable as replacements at...
More details...
Power Electronics Europe News
A fourth eGaN FET has been added to the portfolio of 100V GaN transistors available from Efficient Power Conversion (EPC)...
Recom announces that its 3.5, 5.0 and 6.0W medical grade DC/DC converters are available in low power surface mount versions...
Intelligent power modules (IPMs) from Infineon include the CIPOS Micro IPM with integrated TrenchStop 6 IGBT for motor drives...
An automotive-compliant linear LED controller for automotive LED lighting, is available from Diodes....
Two Hall-effect sensors ICs from Allegro Microsystems have integrated self-test to enhance ADAS safety....
Innovative 91 %-efficient single-stage architecture provides independently regulated multiple CV and CC outputs...
Dengrove Electronic Components offers Recomís space-saving RPM3.3 and RPM5.0 non-isolated DC/DC converters....
Claimed to offer the lowest DC resistance in the industry, the XGL4020 moulded power inductors are available from Coilcraft....
Low cost GaN power transistors in the GS-065 family from GaN Systems are low current devices for sub-1kW applications....
Claiming to offer one of the highest density ratings available, the LGA50D has been released by Artesyn Embedded Technologies...