Features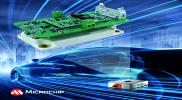 Evaluating Three Key Pieces of a SiC Total System Solution - October 2020
Following a rapid expansion of SiC product options, the industry's next challenge is simplifying the design-in process for end users. Power system developers need holistic solutions that address not...
More details...
Linear voltage regulators operate at automotive temperatures
Designed for high reliability, high temperature applications, the CMT-Antares is Cissoid's latest regulator.
More details...
Power Electronics Europe News
Designed to protect higher-wattage chargers for battery-powered electronic equipment, the 777 fuse is from Littelfuse....
The two companies have joined forces to co-develop GaN-based products....
The ZL8801 dual-phase, DC/DC digital PWM controller is for higher current applications (40 to 100A). ...
CUI has added right angle versions to its PBK series of compact SIP AC/DC power supplies....
Designed for eCall and OnStar emergency services, a charger from Intersil extends the vehicle's Li-ion battery life....
International Rectifier has launched a dual, low-side driver IC, operating at high temperatures for HEV / EV SMPS....
Four 1A FRED Pt fast recovery rectifiers from Vishay Semiconductors are in space saving packages....
Film capacitor manufacturer ICW has introduced the FT polypropylene capacitors. ...
Two switching regulator series archive high operating voltage, extended temperature, and small layout requirement, says Rohm....
A total of 17 AEC-Q100-qualified, high-voltage LDOs support applications that connect directly to a car battery....