Features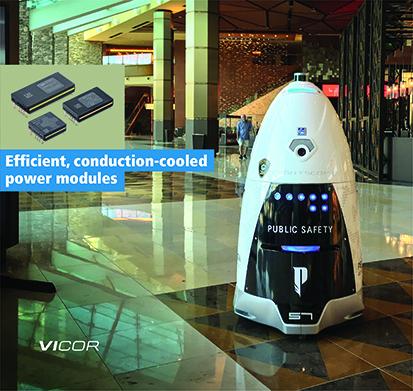 Knightscope's autonomous security robots patrol with superhuman acuity and detection prowess - May 2023
A fusion of innovative robotics, self-driving technology, vehicle electrification and artificial intelligence
More details...
AC/DC power factor correction module offers up to 1,512W
A full brick package developed by TDK-Lambda, the PF1500B-360, is for high voltage distributed power architectures
More details...
Power Electronics Europe News
Innoswitch-EP contains 725-V power MOSFET...
The TB9081FG IC from Toshiba has integrated safety and detection circuits for high functional safety in vehicles....
A current mode, 2MHz step-up DC/DC converter from Linear Technology operates from an input range of 3.0 to 40V....
Intersil claims to have developed the industry's first 80A fully encapsulated digital DC/DC PMBus power module....
The global power module market is projected to be nearly one third of the power semiconductor market by 2019, reports IHS....
Freescale expands its hardware- and software-compatible battery cell portfolio with a three- to six-cell Li-Ion controller....
According to EPC, the EPC2039 is sized, and priced, for wireless power transfer and other high frequency applications. ...
Two DC/DC buck converters from Diodes uses a light-load algorithm to improve efficiencies....
Able to operate at temperatures as low as -40°C, the Recom AC/DC power supplies are available from Dengrove....
Energy harvesting PMICs from Cypress enable tiny, solar-powered wireless sensors for IoT applications. ...