Features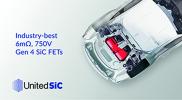 A New Approach to Circuit Breaker Design Using Silicon Carbide Switches - Nov 21
Mechanical circuit breakers can be low cost with minimal losses, but they operate slowly and wear out. Solid state versions overcome the problems and are becoming increasing viable as replacements at...
More details...
Power Electronics Europe News
The RKZ3 is a pin-compatible upgrade to Recom's 2W SIP7 converters, providing 50% more power density in the same footprint....
The EPC9086 high efficiency, half-bridge development board from Efficient Power Conversion (EPC) can operate up to 10MHz....
Alpha and Omega Semiconductor announces the first in a family of P-Channel MOSFETs. ...
Dengrove Electronic Components announces that it now offers Recom's latest 2MOPP 1.0W DC/DC converter series....
The ChiP DCM (DC/DC converter modules from Vicor have been extended with a range of ±1% voltage regulation devices....
Gresham Power, now offers two series of DC/DC converters, approved for medical use, from Polytron Devices....
Recom has released a 50W DC/DC converter which is reliable and efficient for PoE and industrial applications. ...
Murata claims its 1005 size (1.0 x 0.5mm) inductors are the world's smallest inductor at a rating of 15µH....
At European Utilities Week, the four companies announced joint initiative for scalable, secure energy IoT networks....
Kits from Efficient Power Conversion (EPC) show that GaN FETs and ICs can be used in resonant wireless power transfer systems...