Features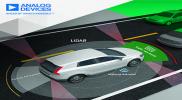 Powering the future of Autonomous driving - issue 4/2019
Analog Devices announced mid July a collaboration with First Sensor AG to develop products aimed at speeding the launch of autonomous sensing technology serving unmanned automotive, aerial and...
More details...
Linear voltage regulators operate at automotive temperatures
Designed for high reliability, high temperature applications, the CMT-Antares is Cissoid's latest regulator.
More details...
Power Electronics Europe News
Integrated modules from IXYS Colorado are specifically designed for Class D, E, HF and RF applications up to 27MHz....
Two high speed gate drive optocoupler devices from Avago, protect and drive fast switching power semiconductors....
New online tools for fastener specification help electronic designers, OEMs and manufacturing services ...
New System Management Bus specification addresses demands of new technologies and supports bus frequencies up to 1 MHz ...
The LpS (LED professional Symposium Expo) 2015 will take place from September 22 to 24, 2015, in Bregenz, Austria. ...
Toshiba Electronics Europe launches a Qi Standard wireless charging IC duo to charge portable devices in less time....
STMicroelectronics releases the BlueNRG Bluetooth SMART network processor for longer-lasting battery-powered applications....
The MIC95410 is a 7A load switch in a compact 1.2mm x 2.0mm package from Micrel....
The LTC3371 is an integrated general-purpose power management device for systems requiring multiple low voltage supplies....
DC/DC power modules from Ericsson deliver up to 120W within a wide input range from 18 to 75V DC....