Features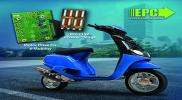 Integrated GaN Power Stage for eMobility - issue 2/2020
Brushless DC (BLDC) motors are a popular choice and are finding increasing application in robotics, drones, electric bicycles, and electric scooters. All these applications are particularly sensitive...
More details...
Linear voltage regulators operate at automotive temperatures
Designed for high reliability, high temperature applications, the CMT-Antares is Cissoid's latest regulator.
More details...
Power Electronics Europe News
The LTC3126 is a 2.5A, 42V synchronous step-down switching regulator with an integrated dual input PowerPath control....
Digital and configurable LED driver ICs have a two-stage architecture, claimed to ease the implending flicker standards....
Distributor, Dengrove Electronic Components has introduced the latest DC/DC converters from Recom....
Setting an industry standard for thermals and efficiency, two FETs are announced by Alpha & Omega Semiconductor....
Designed for space constrained applications, the MDW106 series of 6W isolated/regulated DC/DC converters are from MinMax....
Configurable, digitally controlled AC/DC power supplies by XP Power, the nanofleX is in a low profile chassis....
An ISO 11898-2 compliant controller area network CAN µModule guards against interruptions in 3.3 or 5V applications....
Two automotive n-channel MOSFETs are claimed to provide class-leading low on-resistance for load switching....
Primary‑side power switchers from Diodes enable designers to meet Energy Star Level 6 and EU CoC Tier 2 requirements. ...
Microcontroller supplier, Renesas Electronics has announced it will acquire power management and analogue company, Intersil...