Features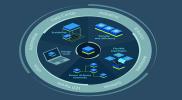 Power of the Module - Nov/Dec 2020
Vicor has established a power module capability spanning product design, manufacturing, simulation and selection tools. This capability allows Vicor to enable power systems designers to quickly and...
More details...
Power Electronics Europe News
Planned Acquisition denied by US CFIUS...
Technological basis set for high performance electronic circuit breakers ...
The LTC4279 serves LTE picocell basestations, LED signage, security monitoring, home automation and machine vision systems....
The OPA388 is the first zero-drift, zero-crossover operational amplifier, says Texas Instruments....
There are 96 models in the MD100x series of 1W DC/DC converters from MicroPower Direct....
Claimed to offer the industry's lowest RDS(on), the SiHP065N60E is the first device in the V E series....
Modules in the RTC series from Recom are provided in a compact six-pin SMD open-frame package....
The ISL78693, single-cell battery charger from Intersil extends the life of Lithium Iron Phosphate (LiFePO4) batteries....
Infineon Technologies AG reported positive results for the first quarter of the 2017 fiscal year....
An evaluation board from EPC demonstrates how eGaN FETs can drive laser diodes to enhance LiDAR in autonomous vehicles....