Features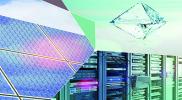 SiC MOSFETs for Bridge topologies in three-phase power conversion - issue 6/2019
Efficiency, productivity and legislation are the main drivers in power applications today. Making more out of less energy and saving costs is putting a greater focus on better conversion efficiency...
More details...
Linear voltage regulators operate at automotive temperatures
Designed for high reliability, high temperature applications, the CMT-Antares is Cissoid's latest regulator.
More details...
Power Electronics Europe News
Designed for industrial battery-powered applications, the ISL81601 and ISL81401 have been released by Renesas Electronics...
Power modules in the RPM series increase the power density of DOSA-packaged DC/DC converters, claims Recom....
Multi-channel SPI high-side power controllers from Infineon Technologies are smart switches for automotive lighting....
Littelfuse extends its SiC MOSFET portfolio, with the LSIC1MO170E1000, its first 1700V SiC MOSFET....
A non-synchronous boost controller drives two stages of n-channel MOSFETs for automotive, industrial and medical applications...
The ISO224 has the industry's highest precision, working voltages, and longest lifetime reliability, claims Texas Instruments...
The BD9S series of automotive synchronous secondary buck DC/DC converters has been released by Rohm Semiconductor....
Alpha and Omega Semiconductor introduces the TO-Leadless (TOLL) package for high current applications....
Charging mobile devices is less dependent on precise positioning, using the STWBC-MC wireless battery charger transmitter....
Motor control can be realised with two dry-cell batteries, using the TC78H651FNG driver IC from Toshiba Electronics Europe....