Features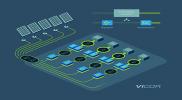 Factorized Power Accelerates Coral Reef Restoration -issue 3/2020
According to the latest figures over 70% of the world's coastlines are eroding, with 200 million people worldwide reliant on the protection that coral reefs offer. With 99% of remaining reefs...
More details...
Linear voltage regulators operate at automotive temperatures
Designed for high reliability, high temperature applications, the CMT-Antares is Cissoid's latest regulator.
More details...
Power Electronics Europe News
Innovative 91 %-efficient single-stage architecture provides independently regulated multiple CV and CC outputs...
Dengrove Electronic Components offers Recom's space-saving RPM3.3 and RPM5.0 non-isolated DC/DC converters....
Claimed to offer the lowest DC resistance in the industry, the XGL4020 moulded power inductors are available from Coilcraft....
Low cost GaN power transistors in the GS-065 family from GaN Systems are low current devices for sub-1kW applications....
Claiming to offer one of the highest density ratings available, the LGA50D has been released by Artesyn Embedded Technologies...
Designed to drive small brush-type, stepper, or brushless motors, the HVC 4420F has been added to the Micronas range by TDK....
Power supplies from Vicor are designed to VITA 62 for 3U Open VPX systems....
Vishay Intertechnology has introduced high saturation IHSR inductors are offered in a 1616 case with a 1.2mm profile....
Two reference designs from Recom are designed for railway's harsh environments...
Scale-iDriver SiC-MOSFET gate drivers are claimed to have the highest output gate current and fast shut down ...