Features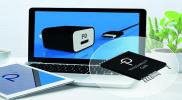 GaN-based switcher ICs empower next-generation power products - issue 1/2020
There have been a number of disruptive advances in the power electronics community over the last 20 years....
More details...
Linear voltage regulators operate at automotive temperatures
Designed for high reliability, high temperature applications, the CMT-Antares is Cissoid's latest regulator.
More details...
Power Electronics Europe News
A series of power MiniLEDs in 2.3x1.31.4mm SMD packages has been announced by Vishay Semiconductors. ...
Sunpower adds four constant current LED power supplies with PFC to its range....
Analyst IHS predicts capital expenditure will grow, as photovoltaic suppliers increase production....
A series of 1200V field stop trench IGBTs targets hard-switching industrial applications such as solar inverters....
Metallised film capacitor manufacturer ICW, based in Wrexham, UK, has announced a joint sales agreement with ICEL S.R.L....
A current transducer from Power Electronics Measurements (PEM) provides accurate true rms with 4 to 20mA or 0 to 5V output....
600V trench-gate field stop IGBTs break through power design constraints, claims STMicroelectronics....
New markets for batteries in electric vehicles and stationary energy storage systems are set to boost Lithium-Ion's fortunes....
Texas Instruments has introduced the UCC28180 PFC (power factor correction) controller which halves power dissipation....
International Rectifier has introduced a DirectFET2 power MOSFET for power steering, braking systems and pumps. ...