Features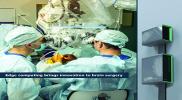 Edge Computing Leverages Modular Power in Scalable Micro Data Centres - May 2022
Edge computing is essential to realizing the full potential of artificial intelligence (AI), machine learning and internet of things (IoT). These technologies are being infused into every corner of...
More details...
Power Electronics Europe News
The LGA80D DC/DC module offers one of the highest current density ratings in the industry, claims Artesyn....
Linear Technology introduces the LTM8003, a step-down DC/DC ÁModule regulator that operates at up to 150░C....
Two compact, isolated DC/DC converters from Dengrove Electronic Components deliver up to 10W from a 1.0 x 1.0inch footprint. ...
Two automotive motor drivers from Texas Instruments support high-performance powertrain applications. ...
Offering efficiency and power density for high current applications, Wolfspeed's all-SiC power module is in a 62mm module....
A dual-colour red and IR emitting diode from Vishay Semiconductors saves space in wearables and medical monitoring systems....
Suitable for factory automation and avionics use, the LTM8053 is a uModule step-down regulator from Linear Technology....
Synchronous rectification MOSFETs from Alpha and Omega Semiconductor are for use in quick chargers for mobile devices....
A resolver to digital converter from Texas Instruments reduces PCB space with accurate rotary position sensing....
Power Integrations announces the LYTSwitch-1 single-stage, non-isolated, buck topology LED driver IC family. ...