Features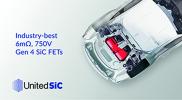 A New Approach to Circuit Breaker Design Using Silicon Carbide Switches - Nov 21
Mechanical circuit breakers can be low cost with minimal losses, but they operate slowly and wear out. Solid state versions overcome the problems and are becoming increasing viable as replacements at...
More details...
Power Electronics Europe News
International Rectifier has launched a dual, low-side driver IC, operating at high temperatures for HEV / EV SMPS....
Four 1A FRED Pt fast recovery rectifiers from Vishay Semiconductors are in space saving packages....
Film capacitor manufacturer ICW has introduced the FT polypropylene capacitors. ...
Two switching regulator series archive high operating voltage, extended temperature, and small layout requirement, says Rohm....
A total of 17 AEC-Q100-qualified, high-voltage LDOs support applications that connect directly to a car battery....
A new report from IHS suggests that the combined MLPE market will experience considerable growth to reach $1billion in 2018....
White LEDs from Toshiba combine cost-effective GaN-on-Si chips with an industrial standard 3535 lens type package. ...
SmartFusion2 SoC FPGA and Igloo2 FPGA families conform to NSA IAD SIG guidelines for hi-rel design....
Two unscreened high-reliability TVS (transient voltage suppression) diodes are available from Littelfuse. ...
Four 1A FRED Pt ultrafast recovery rectifiers have been introduced by Vishay Semiconductors....