Features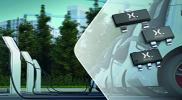 New Developments in RET Technology - Feb/March 2021
Resistor-Equipped Transistors (RETs) – also known as digital transistors or pre-bias transistors – offer many benefits, including saving space, reducing manufacturing costs and increased...
More details...
Power Electronics Europe News
The third International Electric Drives Production Conference (EIDPC) will be held in Nuremberg, 28 0 30 October 2013....
MOSFETs for DC/DC synchronous buck applications use International Rectifier's latest-generation silicon in a PQFN package. ...
Delivering up to 50mA output, the LTC3255 high voltage, step-down, switched capacitor converter from Linear Technology....
The SOL3W solar charger can be charged either by sunlight or USB charger. ...
Fairchild Semiconductor has begun its 2013 seminar programme, beginning in Europe, and moving to the Americas and Asia in early 2014. ...
The 28th EU PEV conference and exhibition opens in Paris Monday 30 September for the photovoltaic industry....
A P-channel enhancement-mode power MOSFET can be used in high high-switching applications such as load switches....
Silicon Carbide can become an alternative to Silicon according to recent research...