Features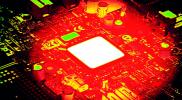 Integrated Battery-Charging Solution with Power Path Management - issue 5/2019
A new single coil power management IC with flexible configuration, rich functions and high efficiency integrates as many analog circuits as possible...
More details...
Linear voltage regulators operate at automotive temperatures
Designed for high reliability, high temperature applications, the CMT-Antares is Cissoid's latest regulator.
More details...
Power Electronics Europe News
Alpha and Omega Semiconductor announces the first in a family of P-Channel MOSFETs. ...
Dengrove Electronic Components announces that it now offers Recom's latest 2MOPP 1.0W DC/DC converter series....
The ChiP DCM (DC/DC converter modules from Vicor have been extended with a range of ▒1% voltage regulation devices....
Gresham Power, now offers two series of DC/DC converters, approved for medical use, from Polytron Devices....
Recom has released a 50W DC/DC converter which is reliable and efficient for PoE and industrial applications. ...
Murata claims its 1005 size (1.0 x 0.5mm) inductors are the world's smallest inductor at a rating of 15ÁH....
At European Utilities Week, the four companies announced joint initiative for scalable, secure energy IoT networks....
Kits from Efficient Power Conversion (EPC) show that GaN FETs and ICs can be used in resonant wireless power transfer systems...
The LSIC1MO120E0080 series combines low switching losses and robustness, even at high temperatures, says Littelfuse....
Analog Devices offers the LTM8065 step-down regulator for industrial robotics, factory automation and avionics systems....