Features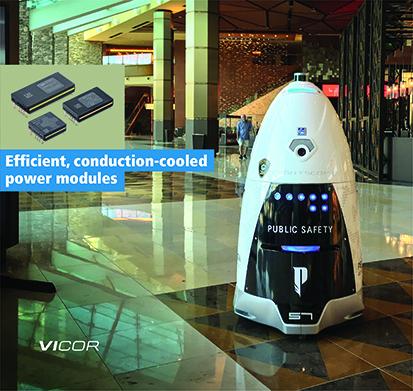 Knightscope's autonomous security robots patrol with superhuman acuity and detection prowess - May 2023
A fusion of innovative robotics, self-driving technology, vehicle electrification and artificial intelligence
More details...
AC/DC power factor correction module offers up to 1,512W
A full brick package developed by TDK-Lambda, the PF1500B-360, is for high voltage distributed power architectures
More details...
Power Electronics Europe News
Regulated SIP8 DC/DC converters in the RS3E family have high power density and an industrial temperature operating range....
Two MOSFETs announced by Nexperia are claimed to deliver the highest power density for automotive and industrial applications...
The company claims to have developed the industry's highest (8V) gate breakdown voltage technology for 150V GaN HEMT devices...
The ESDCAN03-2BM3Y transient voltage suppressor (TVS) saves 75% PCB space, says STMicroelectronics...
Analog Devices has introduced a 16bit, high speed, DAQ µModule for power analysis for digitizing fast transient signals...
The D2PAK-7L SiC FETs ease the path for SiC in demanding applications which require high thermal capabilities...
Power Integrations describes the high frequency, ZVS flyback switcher ICs as a new class of mobile charging devices...
Efficient Power Conversion (EPC) has created the EPC9137 scalable demon board based on eGaN FETs for 48 to 12V systems...
Smart power stage devices by Alpha and Omega Semiconductor target multi-phase voltage regulators for AI, graphics and storage...
Compact 6kV DC devices are for scanning, imaging and diagnostics equipment for analytical and detector applications...