Features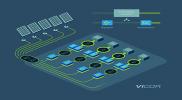 Factorized Power Accelerates Coral Reef Restoration -issue 3/2020
According to the latest figures over 70% of the world's coastlines are eroding, with 200 million people worldwide reliant on the protection that coral reefs offer. With 99% of remaining reefs...
More details...
Linear voltage regulators operate at automotive temperatures
Designed for high reliability, high temperature applications, the CMT-Antares is Cissoid's latest regulator.
More details...
Power Electronics Europe News
Analog Devices has announced a bandwidth RF transceiver which is claimed to have the industry's widest bandwidth. ...
Two LFPAK56 MOSFETs, the PSMN0R9-30ULD and PSMN1R0-40ULD from Nexperia meet UL2595 requirements for battery powered equipment...
A two-channel PCB from Advanced Linear Devices (ALD), automatically balances supercapacitors....
Intelligent power modules (IPMs) released by Infineon Technologies integrate the company's CoolMOS MOSFETs. ...
The TLP3122A is UL1577-approved and targets factory and building automation, security and semiconductor testing....
Power Electronic Measurements (PEM UK) launches the CWTMini50HF current probe for high power density applications....
SiC JFET cascodes can upgrade PFC, active front-end rectifiers, LLC and phase shift full bridge converter....
350 V GaN FETs and Wireless Power ...
650 V and 120 A GaN FETs...
High-frequency SiC drivers...