Features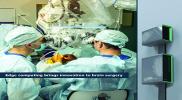 Edge Computing Leverages Modular Power in Scalable Micro Data Centres - May 2022
Edge computing is essential to realizing the full potential of artificial intelligence (AI), machine learning and internet of things (IoT). These technologies are being infused into every corner of...
More details...
Power Electronics Europe News
Complete Buck Converter for Data/Telecom...
Infineon strengthen its position in power gallium nitride...
First entry of Texas Instruments with GaN solutions will accelerate market adoption...
Designed for high reliability, high temperature applications, the CMT-Antares is Cissoid's latest regulator....
Eight single-phase BLDC motor pre-driver ICs from Toshiba are designed for high-current cooling fan applications....
A diversified conference program for PCIM Europe 2015 has been published, with over 300 abstracts on trends in power....
The ISL8203M is a dual 3A/single 6A step-down DC/DC power module that simplifies power supply design, claims Intersil....
Infineon has announced that it shipped over one billion TVS diodes in chip scale packages in 2014. ...
Piezo-resistive pressure sensors can operate in a wide range of temperatures for wearable devices....
Able to achieve a power factor of greater than 0.99, the LT8312 boost controller has been released by Linear Technology....