Features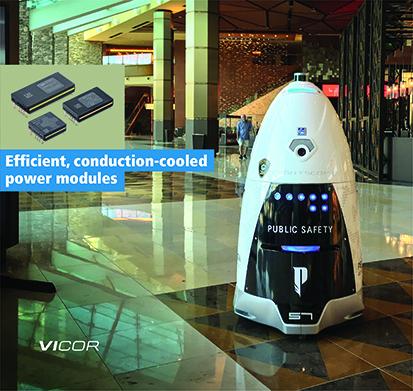 Knightscope's autonomous security robots patrol with superhuman acuity and detection prowess - May 2023
A fusion of innovative robotics, self-driving technology, vehicle electrification and artificial intelligence
More details...
AC/DC power factor correction module offers up to 1,512W
A full brick package developed by TDK-Lambda, the PF1500B-360, is for high voltage distributed power architectures
More details...
Power Electronics Europe News
The 40V DMTH4004SPSQ and DMTH4005SPSQ MOSFETs are rated for operation up to 175°C....
Two 5V multiplexers from Intersil have a choice of channels to extend the radiation tolerant portfolio....
The EPC9065 can be used as the amplifier stage for AirFuel Alliance Class 4 and Class 5 wireless power transfer applications....
The latest Recom RACM40 and RACM65 medical power supplies are now available from Dengrove Electronic Components....
Claimed to be a world first, the A1569 LED driver IC has an integrated Hall-effect switch, says Allegro Microsystems Europe....
A Windows-based software tool can be used for configuration and testing of gate drives for converter power stack developments...
Power Integrations offers solid-state lighting driver for non-isolated lamp designs and isolated ballast topologies....
Powering 48-V automotive applications...
Power Integrations announces its InnoSwitch-CP family of off-line CV/CC flyback switching ICs. ...
The conference programme has been published for this year's show, covering varied topics and with market-focused keynotes....