Features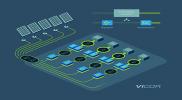 Factorized Power Accelerates Coral Reef Restoration -issue 3/2020
According to the latest figures over 70% of the world's coastlines are eroding, with 200 million people worldwide reliant on the protection that coral reefs offer. With 99% of remaining reefs...
More details...
Linear voltage regulators operate at automotive temperatures
Designed for high reliability, high temperature applications, the CMT-Antares is Cissoid's latest regulator.
More details...
Power Electronics Europe News
Alpha and Omega Semiconductor's Type-C Power Delivery (PD) -compliant load switch has up to 28V over-voltage protection...
Recom has added two- and three-phase AC/DC DIN-rail power supplies to its power supplies ranging from 0.25 to 1000W....
Vicor claims that its latest Power-on-Package (PoP) ChiP-set can be used effectively, close to XPUs...
The 2018 conference programme includes electric vehicle (EV) technologies as well as power device design and packaging....
DC/DC converters from CUI's Power Group are designed for solar power equipment, wind turbines and electric charging stations....
Littelfuse adds two 1200V silicon carbide (SiC) n-channel MOSFETs to its portfolio of power semiconductor devices....
The InnoSwitch3-Pro enables digital micro-stepping of voltage and current for battery charge control, says Power Integrations...
The EPC9130 GaN-based 48 to 12V regulated power supply development board reduces size, boosts efficiency, says EPC....
Texas Instruments introduces an active clamp flyback chipset and three-level buck battery charger at APEC 2018....
650V SiC Schottky diodes,by ON Semiconductor, are claimed to offer higher efficiency, power density and lower system costs....