Features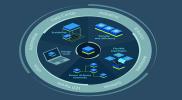 Power of the Module - Nov/Dec 2020
Vicor has established a power module capability spanning product design, manufacturing, simulation and selection tools. This capability allows Vicor to enable power systems designers to quickly and...
More details...
Power Electronics Europe News
Motor control can be realised with two dry-cell batteries, using the TC78H651FNG driver IC from Toshiba Electronics Europe....
Europe's leading event for the power industry, PCIM Europe Conference and Exhibition has issued a call for papers....
EPC has released the EPC205125 mΩ power transistor for space constrained converters, lidar and LED lighting...
Four-channel voltage supervisers from Analog Devices are claimed to increase system voltage margins and enhance reliability....
Vicor has added the PI354x-00-BGIZ in a BGA package, to the 48V Cool-Power ZVS buck regulator portfolio....
Housed in a low profile metal case, the VGS-B chassis mount AC/DC power supplies are available from CUI....
Infineon Technologies has added the IRS2007S 200 V half-bridge gate driver IC to its EiceDriver gate driver family....
Designed for smart home products, six high temperature TRIACs from Littelfuse help designers improve thermal management....
Maxim Integrated Products claims its MAX20069 reduces the size of a design by one-third compared with competing solutions....
Allegro MicroSystems has released a compact, integrated, power monitoring IC with reinforced voltage isolation....