Features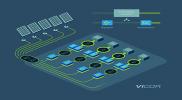 Factorized Power Accelerates Coral Reef Restoration -issue 3/2020
According to the latest figures over 70% of the world's coastlines are eroding, with 200 million people worldwide reliant on the protection that coral reefs offer. With 99% of remaining reefs...
More details...
Linear voltage regulators operate at automotive temperatures
Designed for high reliability, high temperature applications, the CMT-Antares is Cissoid's latest regulator.
More details...
Power Electronics Europe News
Alpha and Omega Semiconductor announces rugged IPM5 600V intelligent IGBT power modules, with optimised efficiency...
Five regulators from Intersil support auxillary rails for industrial and infrastructure PoL applications up to 14A...
Dengrove Electronic Components now offers Recom's DIN-rail Redin120 and Redin240 power supplies...
600V CoolMOS P7 and 600V CoolMOS C7 Gold (G7) series have been added to the CoolMOS portfolio by Infineon Technologies...
The DA9313 is the first 10A inductorless power converter to offer over 98% efficiency, says Dialog Semiconductor...
Efficient Power Conversion (EPC) claims to reduce the size of cost of eGaN transistors while improving performance...
STMicroelectronics believes power supply designers can meet power and efficiency demands with the 900V MDmesh K5 MOSFETs....
Four, higher power DC/DC converters, operating from 200 to 425V DC, have been added to the PH-A280 series by TDK-Lambda....
The 16bit DAC8775 data converter helps shrink board space and design costs for industrial automation, says Texas Insttruments...
Three devices have been added to the GFET3 Integrated Power Switch (IPS) portfolio by Siliego Technology....