Features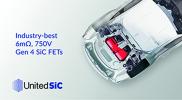 A New Approach to Circuit Breaker Design Using Silicon Carbide Switches - Nov 21
Mechanical circuit breakers can be low cost with minimal losses, but they operate slowly and wear out. Solid state versions overcome the problems and are becoming increasing viable as replacements at...
More details...
Power Electronics Europe News
A CC-RL C compiler development environment for Renesas Europe's RL78 16bit microcontrollers has been announced....
Isolated DC/DC converters within Vicor's ChiP power components range now cover critical applications....
MSP432 microcontrollers from Texas Instruments use the same power budget as its 16bit MSP devices but with more performance....
48 and 60W open-frame power supplies from Recom are now ready to order from Dengrove Electronic Components....
A report from Yole Développement says that the power packaging market will reach $1.7billion in 2020....
The IXZ631 modules feature the IXRFD630 high speed gate driver paired and an RF power MOSFET....
Kemet announces high voltage ALC10 snap-in aluminium electrolytic capacitors for high ripple current applications....
Plessey presented its LED technology at the fifth CS International, a two-day conference....
Transphorm announces engineering samples of its TPH3205WS, claimed to be the first 600V GaN transistor in a TO-247 package....
Integrated and configurable power-management ICs (PMICs) from Micrel feature six independent DC/DC regulators. ...