Features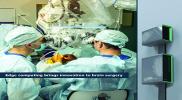 Edge Computing Leverages Modular Power in Scalable Micro Data Centres - May 2022
Edge computing is essential to realizing the full potential of artificial intelligence (AI), machine learning and internet of things (IoT). These technologies are being infused into every corner of...
More details...
Power Electronics Europe News
PCIM Europe will once again be virtual with digital days accessible online from 3 to 7 May 2021 due to the Covid-19 pandemic...
The US ended 2020 with record wind and solar additions, beating previous highs in all sectors, according to BloombergNEF's (BNEF) 1H 2021 Renewable Energy Market Outlook. The next ten years will see the US wind and solar fleet almost triple....
Texas Instruments claims that the LM25149-Q1 and LM25149 DC/DC controllers are the first to integrate an active EMI filter...
The distributor supports Mean Well's compact module ranges to provide a broad range of modular power supplies worldwide...
The NuEVA HF development platform by NuCurrent offers patented high frequency wireless charging for 'place-anywhere' charging...
The TSV7722 can be used for signal conditioning and current measurement in power conversion circuits and optical sensors...
The company adapts to restrictions around Covid-19 and returns to PCIM Digital to launch a new device at this year's virtual ...
Vox Power adds two dual-slot 300W output modules with medical approvals to its NEVO series of modular power supplies...
The latest member of Renesas Electronics' low power microcontroller family, the RE01B has Bluetooth 5.0 support...
Efficient Power Conversion (EPC)'s laser driver is the latest in the eToF family and is optimised for augmented reality...