Features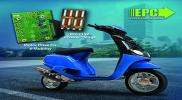 Integrated GaN Power Stage for eMobility - issue 2/2020
Brushless DC (BLDC) motors are a popular choice and are finding increasing application in robotics, drones, electric bicycles, and electric scooters. All these applications are particularly sensitive...
More details...
Linear voltage regulators operate at automotive temperatures
Designed for high reliability, high temperature applications, the CMT-Antares is Cissoid's latest regulator.
More details...
Power Electronics Europe News
Offering high-bandwidth and electrostatic shielding, the CWTHF current probe will be launched at PCIM Europe....
Alpha and Omega Semiconductor announces the first in its family of aGaN technology devices, the AONV070V65G1...
Dengrove Electronic Components now offers three compact medically- approved DC/DC modules from Recom....
The MAX22513 surge-protected, dual-driver IO-Link transceiver from Maxim Integrated has an integrated DC/DC buck regulator...
Renesas Electronics announces USB-IF-certified reference designs for multi-port USB-C hubs and multi-battery cell power banks...
A fourth eGaN FET has been added to the portfolio of 100V GaN transistors available from Efficient Power Conversion (EPC)...
Recom announces that its 3.5, 5.0 and 6.0W medical grade DC/DC converters are available in low power surface mount versions...
Intelligent power modules (IPMs) from Infineon include the CIPOS Micro IPM with integrated TrenchStop 6 IGBT for motor drives...
An automotive-compliant linear LED controller for automotive LED lighting, is available from Diodes....
Two Hall-effect sensors ICs from Allegro Microsystems have integrated self-test to enhance ADAS safety....