Features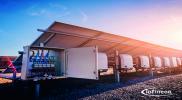 Benefits of CoolSiC MOSFETs in Bi-Directional Inverter Applications - July 2021
With the move to renewable energy, there is an increased focus not only on generation but also storage, to make the most of the intermittent supply from wind and solar. Batteries are the common...
More details...
Power Electronics Europe News
The EPC2218 and EPC2204 100V enhanced-mode GaN on silicon power FETs are the latest eGaN FETs from EPC....
The latest XDP digital controller from Infineon has secondary side regulation for high performance, robust LED design...
The AEC-Q200-qualified thin film flat chip resistors save space in automotive, industrial, T&M, medical and consumer devices...
3W DC/DC converters by Cosel, the MH3 series is packaged in a single in line package (SIP) type 8....
The TPS63900 extends battery lifetimes and has industry's lowest quiescent current (IQ), claims Texas Instruments. ...
The first of 10 0.25W linear power amplifiers to be released this year, the GRF5507, provides 24dBm of output....
Two photo relays from Toshiba Electronics have low trigger current which helps lower power consumption...
Taiwan Semiconductor says the TSCR4 family offers improved accuracy and more precise output voltage drop....
The IPS160HF and IPS161HF are fast-starting intelligent power switches from STMicroelectronics....
Designed with a high safe operating area (SOA), the AONS32310 by Alpha and Omega Semiconductor is for hot swap and e-fuse use...