Features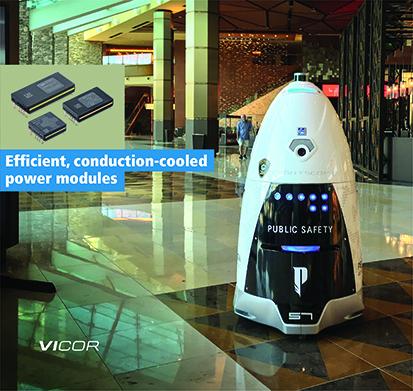 Knightscope's autonomous security robots patrol with superhuman acuity and detection prowess - May 2023
A fusion of innovative robotics, self-driving technology, vehicle electrification and artificial intelligence
More details...
AC/DC power factor correction module offers up to 1,512W
A full brick package developed by TDK-Lambda, the PF1500B-360, is for high voltage distributed power architectures
More details...
Power Electronics Europe News
The GRF5526 and GRF5536 deliver 0.25W of linear power for 5G without digital pre-distortion, says Guerilla RF....
Murata's first coreless TMR-based current sensors, the MRD series, are designed for industrial systems....
Diodes announces ReDriver, switch, clock generator and clock buffer devices which support the latest PCIe 5 protocol....
Alpha and Omega Semiconductor's AOZ29303QI has integrated passives and is suitable for industrial applications...
The RPX QFN-packaged DC/DC converters are now offered in -Q variants which meet automotive AEC-Q100 Grade 1 requirements....
Claimed to offer the lowest RDSon available today, the EPC7018 is a radiation-hardened GaN FET from EPC....
Digi-Key Electronics has introduced the Innovation Hub, an immersive, interactive simulation of a engineer's workshop...
Vox Power has increased the output voltage options for its VCCS300 fan-less 300W power supply....
The MKP1848Se DC-Link withstands temperature humidity bias testing of 60°C / 93% RH for 56 days...
Two processors are claimed by Texas Instruments to make edge AI more accessible while halving power consumption...